By Steve Orji
It was hard knock on the spine to wake up and find in the news that Governor Rochas Okorocha had erected a life-size statue of President Jacob Zuma of South Africa in Imo State among other yet-to-be-unveiled statues in what seems to be a new gallery of spectacular unknown heroes.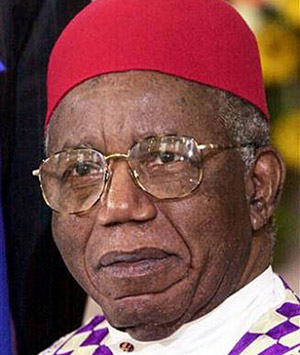 What could have galvanised this governor into such an honour-spree, extravaganza?
Okorocha may have dug deep into the moral anatomy of Nigeria and have found it an easy haven for misplaced, mischievous honours.
And it was so cheap! Nigeria made!
To make certain that Okorocha was not alone in this enterprise, the APC-led administration acknowledged his feat for honouring a serving president battling with allegations of corruption in his own country.
And Nigeria thus endorsed it.
The late Chinua Achebe remains unassailable in the Nigerian context of honouring. Twice he could deconstruct the narrative box of Nigeria's honours.
The first from for President Olusegun Obasanjo and the next from ex-President Goodluck Jonathan.
For those were suborn honours.
Achebe's refusals were to be a sober moral reincarnation for Nigeria, a hard kick on the jurisdiction of honours and honouring.
This year is four years since Achebe's death, and what he stood for, still a strong stare in the face of a nation that is heading down the precipice.
I thought Achebe was teaching us how to honour and the substance of what we should honour in these refusals?   He was!   We didn't wish to learn!
Almost everyone in Nigeria has one title or the other. Those who don't have soon get indoctrinated on why and how to get one. People seek after titles or its tokens, as either social instruments or psycho tools, required to coerce themselves or others into some form of social acceptance or endearments or to provide facelifts for themselves in an attempt to sublimate a severely damaged self-reputation.
For whatever reason, Nigeria and Nigerians falls for it. The danger, again, that accompanies this kind of frivolities, is the death of the society. Death doesn't entirely connote cessation of physical life. It is the accompanying numbness and loss of sensation in the inner core of the human conscience. Nigeria has attained that inglorious threshold of moral anarchy.
This is the kind of social and ethical doctrine Okorocha has further enshrined in the annals of our honouring history as society. This is the same thread of narrative that reinstated Maina, ex-pension administrator who allegedly duped Nigeria to humungous sums of money. He was not only reabsorbed into the mainstream of Nigeria's public workforce, he was also honoured with a perk of promotion.
Some ministers in Buhari'' administration with corruption charges are not merely in office, they have gone further to become the poster child of a government that vowed to fight corruption.
Achebe even in death interrogates Nigeria. His last conversation with Nigeria may have ended abruptly. But as we dig into the repertoire of his legacies, we would find fitting lessons enough to renounce the current moral apathy and shambolic display of statesmanship.
Even when Nigeria has not deemed it fit to bestow on Achebe a fitting national honour due his life and significance, at the moment, his moral essence continues to offer a redeeming backdrop on the nation he gave his honest best.