By Ephraim Oseji
People's Democratic Party, PDP, chieftain, Chief Sunny Onuesoke has said that the Federal Government does not have the constitutional right to tell state governors how to spend the Paris Club refund.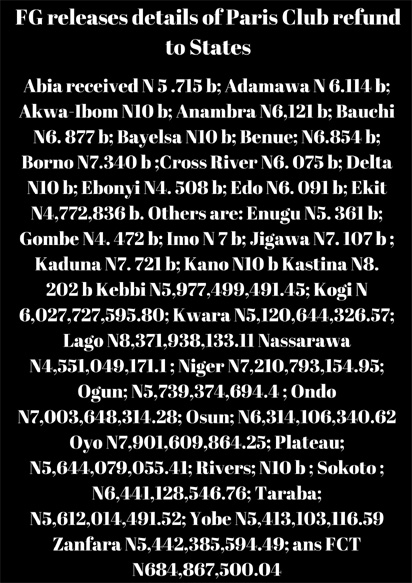 Onuesoke made the statement while reacting to President Muhammadu Buhari's order to the governors that they must direct the expected Paris Club refund to payment of salary arrears. He argued that the state governors have exclusive control over their revenue and expenditure.
He maintained that the Accountant General of the Federation cannot order any tier of government,  on how to spend the Paris Club refund.
"Nigerians should not forget that the Paris Club refund is the constitutional right of the governors. The Federal Government does not have any control over them on how to dispense the fund", Onuesoke, a former Delta State Governorship aspirant argued.
While commending President Buhari for having soft spot for the suffering Nigerians workers who have not received their salaries for months, Onuesoke however felt it would have been more honourable for the President to appeal to those Governors who have not paid workers to do that before Christmas instead of issuing what seems like an order.
Hear him, "It is not all the states that owe workers salaries. Delta for example is not owning workers salaries, so while the blanket order without verification. Thus, such holistic instruction from the President may not go well with some governor most especially when they have different pressing issues in their various states.
I would have equally expected the President to instruct the governors to channel the fund to other area of development in their states instead of payment of salaries alone. The president should advice governors and including the presidency as a matter of urgency to concentrate with Paris fund in areas of parastatal investments, but not mostly workers salaries. Is Nigeria a civil service investment concern or it should industrial investment concern? Onuesoke asked.
"If all the money is use to pay arrears of workers' salaries alone, what will then happen to the parastatals, indebted contractors, infrastructural development, education sector, health and other area of governance."