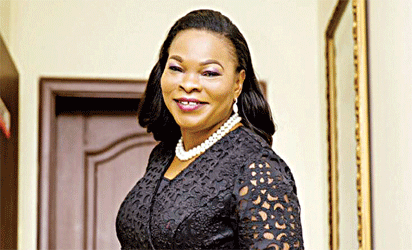 Victoria Olufunmilayo Awomolo (SAN),
By Jemi Ekunkunbor
Today in Abuja, Mrs. Victoria Olufunmilayo Awomolo (SAN), would visit orphanages around the metropolis as part of activities preceding her birthday that comes up in two days. At this stage of her life, she says "I want to dedicate my life to God and humanity". Born on December 18, 1957, the Senior Advocate of Nigeria, holds a first degree in Chemistry from the University of Benin (1981) and had her second degree from the University of Ibadan in 1997. She was called to the Nigerian Bar in 1998 and became a Senior Advocate of Nigeria in 2013.   The mother of four and wife of Asiwaju Solomon Gboyega Awomolo, SAN, talks about life and work as she turns 60 on Monday!
Excerpts:
You look radiant at 60. What is the secret?
In life, moderation is key as well as peace of mind. I tell people that when you are married, ensure that you have peace of mind. And if you are in agreement with your husband and enjoy rest of mind, it would show and that inner peace would radiate outside. So, beauty is not about applying makeup or addiction to beauty products. If you apply those beauty products without enjoying an atmosphere of peace, by the time you wash it off, you will see your real self. Life has been good to me. I'm contented, satisfied, and grateful to my maker for making me see another milestone in my life. I am in good health surrounded by a loving husband and wonderful children.
What was your dream as a young girl?
I wanted to be an entertainer. Although I grew up in Ilesha which I consider a cosmopolitan city, but our exposure to television was limited. In fact, only a few houses had access to TV back then.
So, what then influenced your decision to go into teaching?
I was a pure science student when I finished from Ilesha Grammar School. My uncle, the late Oba Omoboye Omopariola who was an Upper Area Court Judge, came to Ilesha and persuaded my parents to allow me to come to Kwara State. I got enrolled at Kwara State College of Technology for my 'A' Levels in 1976. I finished in 1978 and did Physics, Chemistry and Mathematics. Naturally, when JAMB came I didn't have a choice but to study science related courses. I wanted to do Chemical Engineering but when my HSC result came out, I had Mathematics and Chemistry and Pass in Physics. That was what aborted my dream of becoming a Chemical Engineer. I opted for Pure Chemistry. I went to University of Benin in 1978 and graduated in 1981 with a Bachelor of Science degree in Chemistry. Having taught briefly after secondary school, teaching naturally came to me. I taught for 10 years at Queen Elizabeth Secondary School, Ilorin.
At what stage did you develop passion for law?
I have had romance with law as far back as 1975. While waiting for my admission to Kwara Tech, my uncle being a Judge, got a job for me at Area Court Ilorin as a Court Clerk. I didn't know God was preparing me to be a lawyer. I enjoyed being a Court Clerk for one year and my salary was less than N100.   When I got fed up with teaching and was contemplating toeing another career path, my husband, Asiwaju Solomon Gboyega Awomolo, SAN, suggested law. Being a science oriented person, I suggested Pharmacy but he didn't like the idea. When I told him I wanted to go into business he said he didn't have that kind of money to start my kind of business. He just said why not study law. After much persuasion from him and a father figure, Aare Afe Babalola SAN encouraged me, I applied to University of Ibadan in 1991/1992. I graduated in 1997, called to the Nigerian Bar in 1998 and in 2013, I became a Senior Advocate of Nigeria (SAN).
How did you cope with law being a science student?
Honestly, it was a big challenge for me. Initially, law wasn't flowing. I didn't know anything about government, written and unwritten constitution. I would call my husband and would be complaining. By the following Monday, he would buy all the required text books and law related books. This ignited the spirit in me and I never looked back. Then the first semester came and I passed. Again, my background in science came to my advantage as I could formulate cases into Principles which I put into small notes. Law became fun and loving for me.
Looking back, were there things you would have done differently?
I don't have any regrets about life. I have had a good marriage surrounded by a loving husband and wonderful children and grandchild. Maybe if I had good counsel, I would have studied Law for my first degree instead of chemistry.
Your husband is a lawyer, you are also a lawyer. How do you cope with arguments at home?
We are lawyers in the chambers and all arguments end there. We don't carry arguments to the bedroom.
What of family life and marriage?
My husband is a man who knew what he wanted and waited for it. We dated for two years and realized that our chemistry just jelled and here we are. He is a loving, kind and generous man. He likes to showcase me wherever he goes. In marriage, understanding, love, maturity and prayer are very important for you to have a successful marriage because, no human being is perfect. For me, I have had a good relationship with my husband in the last 33 years since we got married. We renew our love every day. He showers me with his love. He is generous, loving, accommodating and kind. So if there were to be another world, I'd marry my husband again because he is a good man.
How do you relax?
I relax by dancing in my house. In fact, it has become part of me that every Saturday, I will put on CD with good music, raise the volume and dance for a minimum of 30 minutes.
How was growing up like?
It was wonderful growing up in Ilesa which was and still is a cosmopolitan city. My parents migrated to Ilesha from Ponyon in Yagba East Local Government Area of Kogi State. My father was working at a Saw Mill at Ilesha then while my mother was a petty trader. There was electricity with its eclectic nature though. We managed with Kerosene lantern particular during examinations when I had to study. I grew up in a large compound where my parents were tenants but they still instilled good values in us. These values have helped me in my endeavors.