By Olasunkanmi Akoni
LAGOS—SENATOR Gbenga Ashafa, representing Lagos East Senatorial District has expressed gratitude to God for the peace and non violence year 2017 in the district, just as he urged Nigerians to remain steadfast in God for a better 2018.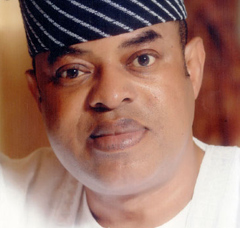 Ashafa made the remarks, yesterday, at the 2017 end of the year thanksgiving/Awards for Excellence/ empowerment for old people and Hall meeting in Lagos East Senatorial District, held at CMD Road, Ikosi-Ketu, Lagos, where he empowered residents of the constituents.
According to the senator, it is very important to express gratitude to God for his kindness and gift of lives despite various economic challenges.
"If you take a look at what God has done for us since the beginning of this year you can not but give thanks to God for His benevolence. There were cases of kidnapping, cultists killing, accidents, and other natural disaster without us being consumed.
We have to thank God as we continue to hold on to Him in 2018 and beyond.
"You will recall in January, I encouraged Lagosians not to allow the tough economic situation define us but rather we should set out to work and contribute our own quota to the development of the economy.
"12 months after, the result of the hard work of Federal Government and our dear Lagos State are now apparent as the country came out of recession in September, 2017."
Ashafa, at the forum, however, called on other well meaning citizens, organisations, among others to come to the aid of less privileged, especially, senior citizens, and widows in inorder to empower families.
He noted that the development of any nation starts with each family, hence, the need to assist in development of citizens at family level.
The senator empowerment programme targeted at empowering over 500 widows in the Senatorial District with seed funds, saw several women receiving their funds from the Senator at the event.
Also various empowerment items were given to 50 senior citizens, free healthcare checks, as well as rendering of mid-term stewardship report of Lagos East Senatorial District, themed: "A message of gratitude."
Ashafa, also, commended the people for the support received from the constituents.
The town hall meeting witnessed a medical outreach powered by a strong team of medical personnel.The outreach attended to over 1500 constituents who came in for free qualitative medical services ranging from blood pressure, body mass, blood glucose, cholesterol, diabetes, hearing and dental check ups, and medical advice.