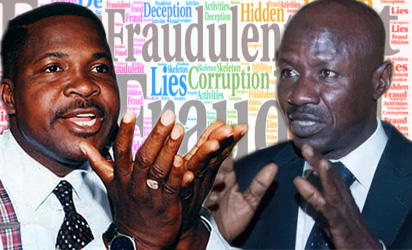 …you've a responsibility to fight corruption, Magu tells Judges
…dock one APC supporter, ex-SGF if you're serious Ozekhome fires back
By Ikechukwu Nnochiri
ABUJA – The Acting Chairman of the Economic and Financial Crimes Commission, EFCC, Mr. Ibrahim Magu, on Tuesday, clashed with human rights lawyer, Chief Mike Ozekhome, SAN, at an end of year event that was organised by the Federal High Court in Abuja.
Both Magu and Ozekhome were special guests at the occassion that was equally used by the court to recognise and confer merit awards on some of its staff that recently retired from active judicial service.
Trouble started after Magu who was called to the podium to speak during the launch of a book containing selected judgments and rulings of retired Chief Judge of the High Court, Justice Ibrahim Auta, singled out Ozekhome, saying he has a responsibility to join ongoing war against corruption in Nigeria.
Magu equally maintained that judges of the Federal High Court who attended the event from various divisions of the court across the federation, have a duty to compliment government's effort to rid the country of corruption.
Magu said: "Everybody here has a responsibility to fight corruption, even my friend here, Ozekhome. He has a resonsibility to fight corruption.
"This is because corruption is a disaster in this country. I want to use this oppurtunity to call on you in everyway to help us in the fight against corruption and together we will win. We are already winning.
"All we need is for you to help us in the fight against corruption", the EFCC boss added.
Before he could drop the microphone, Ozekhome stood and indicated his intention to speak and was invited to the podium.
The constitutional lawyer who has fought and won many legal battles against the EFCC, accused Magu of not being serious and sincere in the anti- corruption war.
Ozekhome challenged Magu to prove him wrong by prosecuting any top official in the present administration, alleging that EFCC was only going after opposition politicians and those criticising the President Muhammadu Buhari led administration.
He said judges should not allow themselves to be intimidated, saying they should not be afraid to do justice at all times without fear or favour.
Ozekhome said: "Let me quickly make the point that the Federal High Court by virtue of its powers, is perhaps the most important court under section 6(6) of the 1999 constitution in terms of upholding the tenets of the constitution of the Federal Republic of Nigeria as altered.
"Because of that Sirs, you must not waiver. It is a call of duty on you as representatives of God on earth. Do not be afraid of the blaring sirens of powers because at the end of the day you will be accountable to your God. Don't be afraid of authorities, do justice.
"Some one or two people have referred to me. Let me acknowledge the presence of my good friend Mr. Ibrahim Magu. Most of you do not know, he is my personal friend. I have known him since the 90s when he was under former Chairman of EFCC, so we are very close friends".
Looking directly at Magu, Ozekhome continued; "I want to assure you that all of us are engaged in fighting corruption, but like I have challenged you again and again before your very face up to March this year when you invited me to the anti-corruption seminar.
"I said Mr. Magu, do us one favour, show us one person in the government, in your government that you docked, let Nigerians see that you are trying this one person!
"Then you would have achieved mileage in the fight against corruption. Just one example! Put a Minister, put the former SGF that has been indicted in the dock, just put one, then we will say you are serious and no longer selective.
"When you are selective in the fight against corruption and yet when you check your right its corruption. You treat the government with Sasorabia perfume and then fight opposition politicians and critics with insecticides, then you can't be serious.
"When you seize a lawyer's professional fees paid, you can't be said to be fighting corruption.
"My lord Sirs, please be creative, do justice without fear or favour. Do what the Court of Appeal just did in the case of Justice Nganjiwa. That is a judgment that is proper, historic and should be celebrated. I support that judgment.
"A Judge should not be afraid to do his or her job. You should not be afraid, heavens will not fall. Soldiers come and go but barracks remain. Operatives of government come and go but government remains.
"Let us build strong institutions and not strong men", Ozekhome concluded amid thunderous applause from other guests at the event, including retired and serving Judges.
Among those at the occassion included Justice Hyeladzira Ngajiwa whose corruption charge was recently quashed by the Court of Appeal in Lagos.
Equally at the event was a Senior Advocate of Nigeria, Mr. Ricky Tarfa who is also facing charges EFCC preferred against him over allegation that he offered bribe to a Judge.
In his speech, the Acting Chief Judge of the high court, Justice Abdul Abdu-Kafarati, commended Judges he said took part in recent action plan to decongest the court by disposing off high profile criminal and terrorism cases in Kainji.
"It is worthy to note that of the 1, 669 accused persons detained in Kainji, 50 were convicted, 59 had their cases struck out, 34 were adjourned to be heard in Abuja and Minna at the appropriate time, while 212 were released", he added.