By Umar Yusuf
YOLA—The lingering herdsmen/farmers' crisis in Numan and Demsa Local Government areas of Adamawa State is taking a new dimension as the government of Governor Muhammadu Jibrilla now appears polarised by the issue.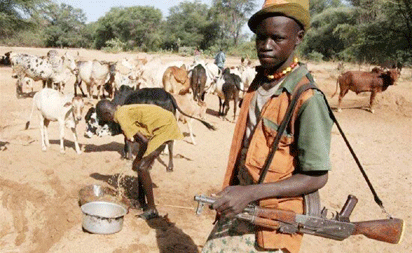 The new dimension followed an attack on the Senior Special Assistant on Media and Publicity to the Governor, Mr. Macaulay Hunohashi, who is of Numan extraction.
Hunohashi was allegedly attacked at the Admiral Murtala Nyako Centre in the state secretariat complex, while attending a function.
The attackers, it was learned, allegedly accused him of blackmailing the Secretary to the State Government, SSG, Dr. Umar Bindir, by attributing recent farmers/herdsmen clash in the state to him (SSG) through a statement that went viral on social media.
During the press conference, the SSG had compared the sticks carried by Fulani herdsmen in protecting their animals to a bullion van used by policemen to protect cash.
The statement was said to have quoted Hunohashi as supporting the Fulani in bearing arms and ammunition which did not go down well with the SSG.
The clash
While the function was ongoing, an aide to the SSG, popularly known as Dogo, allegedly went up against Hunohashi for challenging his principal.
Confirming the incident, Hunohashi, who gave a vivid account of the incident, said: "We were all at the centre attending the function when Dogo approached me, asking me who am I to challenge his boss.
"As if that was not enough, as I was about to utter a word, Dogo descended on me with punches, which I resisted, even as he made other attempts to give me knocks.
"His next line of action was to rush to a nearby car, drew a very sharp cutlass and was running towards me. Security operatives barred him from reaching me."
Hunohashi said he had officially reported to his principal, Governor Jibrilla and the state CID at the Police headquarters in the state.
SSG keeps mum
Meanwhile, the SSG, Dr. Bindir, declined comments on the issue, saying it was between his aide and the governor's aide and, therefore, had nothing to do with him.