…Supports Education Startups, NGOs
Accenture Alumni Network recently brought together educationists, tech entrepreneurs and parents to discuss the future of education as technology continues to redefine student-centred learning, learning outcomes and even the use of ICT in education.
In his opening remarks, Mr. Niyi Yusuf, Managing Director of Accenture Nigeria, stated that the fourth industrial revolution is said to be ushered in by advancements in robotics, virtual reality, cloud technology, big data, artificial intelligence, the internet of things and other technologies.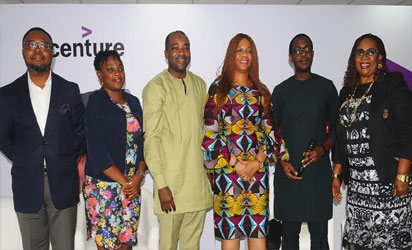 Commenting on why Accenture is leading conversations and innovations on education in Nigeria, Mr. Yusuf, said as a consulting company that works with the government and big companies, Accenture recognizes the importance of education and technology to the development of every nation and is committed to helping individuals and small business in Nigeria to grow through their CSR education programme dubbed 'Skills to Succeed'.
He stated that it has become imperative for teachers continuously learn and relearn to empower themselves with the necessary skills and knowledge that will enable them prepare students for workplace of the future.
He added that Accenture in partnership with United For Education Foundation encourage employees of the company to participate in volunteer teaching scheme at primary education level to inspire the pupils and motivate the teachers as well.
Speaking during a panel discourse themed "Re-imaging Education for the Fourth Industrial Revolution", Utibe Henshaw, Programme Officer, The Education Partnership Centre, stated Nigeria's out-of-school population is projected at 10 million while that of India is projected at 1.8 million, even though they have eight times our population.
She said it has become imperative for companies to come together and/or collaborate with the government and other education non-government organizations (NGOs) to help revamp the education sector in the country by training teachers, and compensating outstanding ones to motivate others.
Odion Omonfoman, Founder, United For Education Foundation, noted that technology is rapidly changing the ecosystem and the need to bridge the gap between the classroom and workplace through interaction between industry expert and educationist have become the way forward to the quality of education in Nigeria. He stated that this engagement will help inspire students and motivate teachers in doing their work.
Another panelist, Amelia Dafeta, Director of Education, Corona Schools' Trust Council highlighted the issue of inconsistent in education policy, lack of infrastructures and continuous training as some of the major challenges bedeviling education in Nigeria.
Abolaji Osime, CEO of Global International College also submitted that for students to be prepared for the future, there is a need to improve the quality of teachers starting from the recruitment stage. "For me, I believe teaching is a calling. If you have no passion for it, you shouldn't be teaching.
Some do it for the money and so we are not getting the best of the students. For a start, today's teachers that want to build the leaders of tomorrow must to tech savvy, open to learning and self-motivated, she said.
Tech startups such as Scholar X, StudyLabCentral, among others were also given the opportunity to demonstrate their solutions to potential investors and prospective customers at the event.