• Nigerians ask Health Minister: Where are the 10, 000 PHCs you promised?
By Chioma Obinna
When, in 2015, the Buhari administration took over with the promise of revitalising the health sector, particularly the Primary Healthcare Centres, PHCs, which is believed to be pivotal to effective healthcare delivery anywhere in the world, many Nigerians heaved a sigh of relief that the attainment of the universal health coverage was in sight. Many also believed that the promise would end the billions of dollars lost to medical tourism annually as well as bring health care to the door steps of the vast majority of Nigerians. Almost three years down the line, the promise, however, has remained a mirage as the health is anything but revitalised. Today, the sector is bedevilled by the outbreaks of infectious diseases without proper response, industrial disharmony due to government's failure to honour agreements, migration of competent health workers abroad in search of greener pastures and poor infrastructure arising from inadequate budgetary allocation.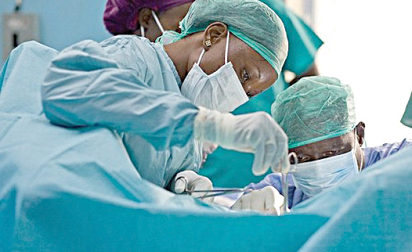 Health watchers are worried that even when President Muhammadu Buhari spent several months of the year on medical treatment outside the country, Nigeria still cannot boast of any hospital that can take care of him if he falls sick again. Even the so-called Aso Rock Clinic on which billions of Naira was said to have been budgeted year in, year out cannot save the situation. Our health indices are among the worst in the world. Stakeholders believe that the past and present governments have failed to bring the desired change in the sector.
Significantly, government has failed to implement the Abuja Declaration and WHO recommendation of 15 per cent budgetary allocation to health. Nigeria was ranked 187th among the 191 United Nations member-states in 2000. That same year, Nigeria spent $4 per capita on health, below WHO"s minimum benchmark of $14 for developing countries.
In 2013, a total of N279 billion was allocated to health.   According to the Nigeria Health Watch, N262 billion ($1.7 billion) (6.3 per cent) was allocated to health in the 2014 budget out of which 82 per cent was spent on recurrent expenditure.
The vote nose-dived to 5.7 per cent in 2015; and, in 2016, paltry 4.3 per cent of the total budget was allocated to health. Meanwhile, experts say high budgetary allocation is a critical factor in the attainment of universal health coverage in Nigeria.
According to the President, Nigeria Medical Association (NMA), Prof Mike Ogirima, the expectation was that the 2018 budget presented by Buhari would capture certain privileges for the vulnerable population: Pregnant women, children under five years and road accident victims. One per cent of the consolidated revenue should have been set aside as basic health trust fund for such group of people. "But in the budget, as presented, I have not seen whether that is realisable in 2018", Ogirima told Sunday Vanguard.
"In 2001, Nigeria was part of the African declaration that at least 15 per cent of our annual budget should be put into health. Nigeria is still struggling between 3- 4 per cent. Meanwhile, some African countries are already going beyond 15 per cent and you cannot see the effect of that in their healthcare indices. Nigeria is still far behind. 2018 budget Looking at it holistically, if you compare the 2018 budget with the 2017 budget, there is marginal increase in the amount of money budgeted for health. But go back to the 2017 budget, how much of that, that was budgeted was released? It is very small. For capital budget, I am sure it is around 20 per cent. Of course, you could say that recurrent expenditure, staff emolument, government tried to pay but not all staff are receiving 100 per cent of their emolument at the end of the month. I
"In 2018, the capital budget for health is N71billion; that is N20billion above what was budgeted last year but how much was released from the N51billion that was budgeted last year? Only 20 per cent. Government must disburse the budget promptly no matter how small; that will go a long way to have some effect on what we are having now."
The President, Society of Gynaecologists and Obstetrics of Nigeria, SOGON, Prof. Oluwarotimi Ireti Akinola, echoed similar view.
"Improving our indices requires improved budgetary allocation and the lack of political will is actually a major setback", Akinola said.
"Nigeria has not done 15 per cent of the budget allocated to health. The Abuja Declaration was done in Nigeria for African nations; even then, you still find, for example, that policies are often not well orchestrated towards addressing the issue of maternal and new born health.
"I cannot see the prospect in the 2018 budget presented by the President, the figure is not better. Certainly the allocation to health is even lower; I think is about 4.9 per cent or something".
Brain drain/ migration
Acute shortage of doctors and other health workers remained a challenge throughout the outgoing year.   Many health workers are exiting service. Reports show that no fewer than 300 medical doctors from various public hospitals, including the Lagos University Teaching Hospital, LUTH, Lagos State University Teaching Hospital, LASUTH, among others, left service in 2017.
According to the NMA President, Ogirima, the exodus of doctors abroad is worrisome.   The country has continued to maintain poor doctor/patient ratio of 1: 4,000 and the current migration has worsened the ratio. "Presently, due to the continued brain drain, the country's doctor-patient ratio is one doctor to 4,000 patients. This is contrary to the one doctor to 600 patient ratio recommended by the World Health Organization", Ogirima said.
"Nigeria is using her resources to train doctors and professionals that will leave to work in foreign countries. What are those things attracting these professionals outside? Can we duplicate those things here?". The NMA President said that the responsibility to check the migration lies with government, the people and professionals to provide good working environment. "Government should provide adequate remuneration. We are not saying we should pay so much, but pay them for the job they are doing as and when due".
According to a report, an estimated 35,000 Nigerian doctors are practising abroad out of the 72,000 registered with the Medical and Dental Council of Nigeria. The United Kingdom and the United States are the top destinations of the migrant doctors.
In August, an official of the National Association of Resident Doctors, NARD, Dr. Abimbola Olajide, revealed that no fewer than 2,500 doctors would leave the country before the end of the year.
Despite the shortage, little or nothing appears to be done either to retain the health professionals or attract those in the diaspora.   With Nigeria's estimated 193 million people, medical tourism will continue to thrive.
Medical tourism
Nigeria ranks high in medical tourism with a percentage of 42.4 due to the country's poor medical healthcare. According to the Minister of Health, Prof Isaac Adewole, Nigeria spends over $1 billion on medical tourism abroad to countries such as India, Malaysia, China, Egypt, United Kingdom and others, with 60 per cent of the fund spent in four major areas of cardiology, orthopaedic, renal dialysis issues and cancer. Even many Nigerians head to smaller countries like Ghana and Benin Republic for their health needs, particularly cancer treatment.
Industrial disharmony
In 2017, federal and state governments owned hospitals had their fair share of strikes called by doctors and health workers. The strikes were majorly due to government failure to honour agreements with workers.
The strike embarked upon by resident doctors under the auspices of NARD was significant. While other health workers' strike were not allowed to stay on strike for too long, there were threats of industrial action by all the unions in the various hospitals.
Infrastructure/PHCs
Adewole, while assuming office as Minister of Health, promised to deliver 10,000 Primary Healthcare Centres (PHCs) across the country, tagged, 'One PHC per ward' programme.   Sadly, Nigerians are yet to see this come to fruition. Today, the state of PHCs across the country is better imagined. Many have been overgrown with weeds. Some can be described as the snakes' den. Many women who may have benefited from the proposed PHCs are being detained in private hospitals after delivery because they cannot afford to pay their bills. The project, according to the Minister then was to ensure access to healthcare delivery
Commenting on the situation, Lagos State Chairman of the NMA, Dr Olumuyiwa Odusote, said,"We cannot talk of universal health coverage without access to health at the grassroots and this can only be made possible by PHCs.   Unfortunately, almost three years after, Nigerians are yet to see the 10,000 centres".   Cancer patients are groaning due to obsolete and broken down medical equipment. The situation took a critical turn last year, forcing patients and their relatives who throng treatment centres daily to raise the alarm.
In the meantime, worthy of mention is the facelift given to the cancer centre at the National Hospital Abuja, NHA, where the Minister of Health, after a visit, swung into action.
Diseases outbreaks 
Findings by Sunday Vanguard also showed that three years after the Ebola saga, Nigeria has relaxed its preparedness for the outbreaks of diseases. There were recent epidemic disease outbreaks such as Lassa fever, Monkey Pox, Cerebro Spinal Meningitis, among others. The outbreaks in parts of the country are clear evidence that Nigerians continue to be exposed to the dangers of preventable and treatable diseases.   According to the Chief Medical Director (CMD) of LUTH, Prof. Osibogun, no fewer than 1,000 Nigerians die annually as a result of disease epidemics.
Health watchers believe that although government has done well with the establishment of the National Centre for Disease Control (NCDC), there is need to back it up with a law to strengthen its operations. Also, Nigeria does not have a national plan of action yet so that we can be well prepared for any form of disease outbreak.
They posit that it is also important for the National Assembly, as the only organ that could mitigate imminent crisis in the health sector with the 2018 budget the President has presented, to look dispassionately and do what it could to substantially increase the allocation to the health sector in order to deliver better healthcare to Nigerians.