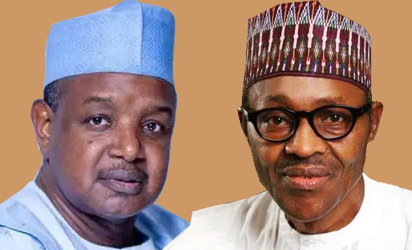 Bagudu-Buhari
The chairmen of the Association of Local Governments of Nigeria (ALGON), under the platform of the All Progressives Congress (APC) in Kebbi, have endorsed President Muhammadu Buhari for the 2019 presidential election.
The group also endorsed Gov. Atiku Bagudu of Kebbi for a second term in office in the forthcoming general election.
The state chairman of the association, who is also the APC Chairman of Maiyama Local Government Area, Alhaji Abdullahi Andarai, made this disclosure to newsmen on Saturday in Birnin Kebbi.
Andarai told newsmen that the endorsement became necessary, considering the achievements the party had recorded both in the country and at the state level.
"The leadership of the APC in the state has benefited from the good governance of Gov Atiki Bagudu and President Muhammadu Bahari.
"We, in Kebbi, are farmers, we support any policy that places high premium on agriculture.
"APC leadership from the national and state levels came up with the agriculture revolution policy, from which we have benefited immensely.
"The economic status of farmers in the state has improved and we will ensure the continuation of the APC leadership at the state and the national levels," he said.
The APC leader said the association reached the resolution after due consultations with their party supporters at the grassroots.
He called on the president and the governor to accept the endorsement, adding,"Kebbi people will not be happy if our endorsement is not accepted". (NAN)