By Luminous Jannamike
ABUJA – The Minister of Youths and Sports Development, Solomon Dalung, Tuesday said more than 100 Nigerian athletes tested positive for doping since 2002 when official documenting of drug testing commenced in the country.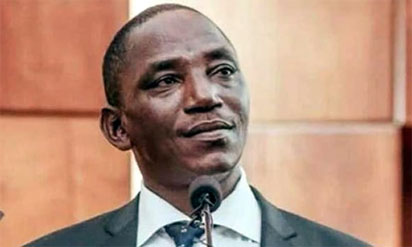 He said this figure would more likely be higher if funds had been available to conduct more complex drug tests.
Dalung stated this in Abuja while speaking at the opening ceremony of the Anti-Doping Seminar for Presidents and Secretaries of Sports Federations in Nigeria.
According to him, the figure brings to fore the high incidences of doping in sports activities in Nigeria, especially at the grassroots levels.
He explained that doping does not only have potential to destroy the intrinsic values of sports, its adverse health consequences on the large youth population that participate in sports, would create unwanted negative social impact.
Dalung disclosed that the unpleasant consequences of the malady is a key reason for all stakeholders to give attention to anti-doping and work in concert to tackle doping in Nigerian sports.
He said: "The issue of doping has to do with protecting the integrity of competition in sports.
"Nigerian athletes must ensure that they do not engage themselves in activities or in nutritional attitudes that will be in violation of the laid-down codes of conduct in sports.
"We have very good and talented athletes. So, in every competition, we should compete freely, fairly, and transparently.
"The essence of this particular seminar is to meet the mandatory compliance status of World Anti-Doping Agency (WADA), which entails holding regular information and education of Sports Federation Presidents and Secretaries who are key actors involved in identification, training, nurturing and presentation of athletes.
"They must be familiar with the rules first. Sometimes, some of them encourage these young and innocent athletes to take some of the prohibited drugs just to ensure that they win at all cost.
Dalung further said that Nigeria is not interested in winning international sports competitions at all cost but the country is interested in winning fairly and honestly.
To this end, he said: "The federal government has done so much to ensure Nigeria's compliance with mandatory provisions of WADA Code in order to avoid imposition of sanctions by WADA that would have adverse effect on our sports and the many components of our sporting programme."