By Soni Daniel
Abuja – Nigerian Governors, Saturday, distanced themselves from outburst by Ekiti State counterpart, Ayo Fayose, that the approval of $1 billion from the Excess Crude Account for tackling Boko Haram was an indirect campaign cash donation for President Muhammadu Buhari's 2019 presidential bid.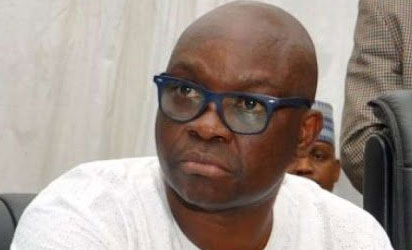 The governors who spoke through the Chairman of the Nigerian Governors' Forum, Abdulaziz Yari of Zamfara State, described Fayose's claim as a ruse, which required no serious consideration from men of goodwill.
The Governors said Fayose was strictly on his own as far as the approval for the money was concerned since he personally elected not to attend NGF meeting where the approval for the release of the money to the federal government to tackle insurgency was taken on the eve of the last National Economic Council, NEC.
Yari in a statement on Saturday made it clear that the decision to allow the Federal Government access the money was a collective one by the governors' forum.
The governor maintained that the absence of Fayose from the said meeting where the decision was taken did not clear anyone of responsibility for the forum's resolutions.
Yari said, "I am saying that that statement by Governor Fayose was an unfair cut against the Forum. When a decision is taken by the Forum in one's absence, once there was a quorum at the meeting where the decision was taken, (it) becomes binding on all. I am sure Fayose was not making the statement to undermine the Forum. He was just doing his thing."
Mr. Yari said the decision was a "conscious sign by the two parties to show the synergy between the NGF and the Presidency, "which ought not to be politicized".
"This same lack of unity between governors and the presidency had brought about poor governance in the past, throughout the country and now that we are working together no one should constitute a wedge in the process," the governor said.
"If Governor Fayose was there at the meeting, he would have seen the wisdom in the decision. Yes, the administration is claiming to have decimated the insurgents out of Sambisa Forest but they are re-emerging in different flashpoints across the country.
"They need to be tackled wherever they are and the NGF decided to support the Presidency just as it (The Presidency) had been supporting states with their own problems," Governor Yari Abubakar argued.
"Governor Fayose is on his own. We have to protect our people and we have to do it with everything we have," he said.
"Let me reemphasize one more thing, Mr President is a responsible and honest leader who does not believe in money politics and he would never divert public resources into it."