By Omeiza Ajayi
ABUJA – Disturbed by the continued loss of man hours as a result of the lingering fuel scarcity in most parts of the country, the Petroleum Tanker Drivers PTD branch of the Nigeria Union of Petroleum and Natural Gas Workers NUPENG, has expressed a renewed commitment to ending the menace.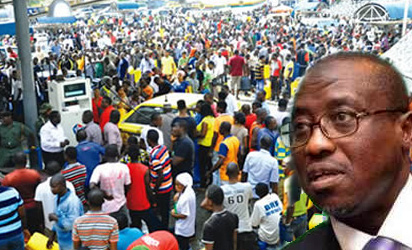 National Chairman of the PTD, Comrade Salmon Oladiti who made the pledge Tuesday in Abuja, said the tanker drivers are ready to assist the Nigerian National Petroleum Corporation NNPC in its bid to halt the ugly trend, urging the corporation not to relent in its efforts to ease the suffering of vehicle owners in the country.
Noting that there has been an improvement in the supply chain from the depots, Comrade Oladiti said; "Now that petrol is gradually available, we are ready to lift and ensure its availability. We don't want Nigerians to go back to the era of artificial scarcity. We are ready to make sacrifices to ensure that lifting at the depots by our members improve.''
According to him, his members are willing to complement the NNPC management resolve of 24 hours loading and distribution at the depots till the situation normalizes.
The Federal Executive Council FEC had last Wednesday given matching orders to the Minister of state for Petroleum Resources, Dr Ibe Kachikwu to ensure an end to the scarcity, but the situation had continue to persist, especially in Abuja.
As a result, Oladiti said the tanker drivers have resolved to ensure the speedy movement of petroleum products from the depots to all retail outlets in order to end the sufferings of Nigerians at the receiving end of the present shortfall in supply.
He, however appealed to the federal government to take immediate steps towards implementing its comprehensive project on the revitalization of refineries and depots across the country.
Car owners in Abuja have continued to spend long hours in fuel queues across the city, with many workers stranded and unable to get to work in time.