By Bashir Adefaka
Prince Abdul-Jabbar Bola Ajibola (SAN), a former Attorney-General of the Federation and Minister of Justice, has solid credentials as an estwhile judge of the World Court, popularly called the International Court of Justice (ICJ), at The Hague, a recipient of a honorary doctorate degree of law, LL.D, from a British university, his appointment as a permanent Vice President of the World Bank, a former Nigerian High Commissioner to the United Kingdom and the founder of Islamic Mission for Africa (IMA).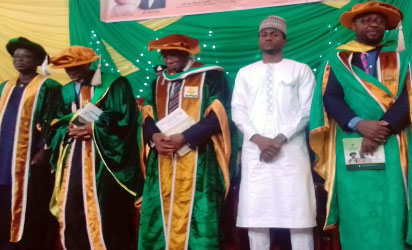 Today, from IMA has emerged a 'centre of academic and moral excellence' that Crescent University Abeokuta (CUAB) stands for and the Olori Omo Oba Owu of Owu Kingdom, Abeokuta is saying, "Alhamdulillahi, I am able to establish an institution that will produce future leaders who will not steal public money but also will run the sovereign state with sound knowledge of patriotism based on nation-building and fear of God."
Ahead of the 9th convocation of the university held penultimate Saturday, Sunday Vanguard paid Ajibola a visit to his Olusegun Obasanjo Hilltop GRA, Abeokuta home and the 83-year-old descendant of Olowu Gbadela Ajibola spoke about the difference the convocation would bring.
The convocation was scheduled to begin with a sporting activity and a lecture by Mallam Yusuf Alli (SAN).
"The joy of the convocation of the Crescent University Abeokuta, which we proudly call our own, is that, it is the zenith of all our convocations since we started about nine to 10 years ago. It is a convocation that started with the visit of our Vice Chancellor, Professor Ibraheem Gbajabiamila, to President Muhammadu Buhari to wish him well and the President thanking us for our support", the varsity founder said.
"Also important was the visit to the wife of the President, Mrs Aisha Muhammadu Buhari, who promised to be at the convocation with her entourage and we saw that in the representation of the first family led by the son of President Buhari. And we honoured the President's wife's brother who came with quite a large crowd of people from the North, especially the governors of Adamawa and Taraba states, to the convocation.
"In fact, our highly revered supporter, the richest African, Alhaji Aliko Dangote, also promised that he would be at the convocation. Yes, he was not there physically but he was with us at the great occasion in spirit.
"From outside Nigeria came Muhammed Ali, who is the Chief Executive Officer of Islam Channel, from Britain.
"So, with those people, ahead of time, we had to reduce the number of people we should honour. We had not only the large crowd but qualitatively a lot of important people from all parts of Nigeria and that was one important aspect of the convocation that we witnessed on the 13th and 14th of October.
"We rejoice in the fact that this is the 12th year of our university and things are going on very well. We are grateful to the almighty God for all the blessings on us. We are highly delighted that this year's convocation was unique as it was the best of all convocations we have had.
"We have had many important people in our university to attend our convocation in the past. We should not forget that a former President, Alhaji Shehu Shagari, was once honoured in our university. The Sultan of Sokoto, His Eminence, Alhaji Muhammad Sa'ad Abubakar III, was one of our awardees at that particular time.
"We have also hosted many distinguished people like Alhaji Femi Okunnu, Alhaji Bola Ahmed Tinubu and the current Minister of Power, Works and Housing, who was then governor of Lagos State, Mr. Babatunde Raji Fashola (SAN). Our governor here, Senator Ibikunle Amosun, was also our guest during an occasion to install our new Chancellor, kabiyesi, the Alaafin of Oyo, Oba Lamidi Adeyemi III".
The cradle Crescent University, to Ajibola, is a great IMA institution.
According to him, it started as an impregnated ambition, which was delivered on the present location on Ayetoro Road, near the roundabout on the way to Alamala Army Barracks, Abeokuta despite the efforts of a money bag to stall the dream.
On this, the Officer of the Federal Republic (OFR) said, "Like everything in the world, one must start from one place before expanding to other things. Our prayers, supplications, desires were, first of all centred, on the Islamic Mission for Africa. It was there that we prayed that the almighty God should bless us with this university.
"Our aim is quite clear. First, in line with our philosophy – we hate nobody – we preach peace, good behaviour, regardless of religion, regardless of ethnicity.
So, you have in Crescent University a lot you can admire because you are there to meet people from all the 36 states of Nigeria and they are friendly with one another.
"We thank the almighty Allah subuanahuwwa ta'ala for giving us this opportunity of developing the university to this level at this time."
World class products
The Baptist Boys' High School, Abeokuta old boy apparently replicated the academic and moral discipline he imbibed in that missionary school in Crescent University, complementing that with the comprehensive provisions of his own Islamic faith to create a university of 'academic plus.' He continues to see on daily basis how well the products of the institution he established from the proceeds of the sale of his properties are doing locally and globally.
The SAN explained how well behaved Crescent University students are, "We ensure that we continue to have excellence in academic and moral development of our students and that is very, very important. And we have enjoyed the blessings of God at all times on our students.
"I will give you a good example. There was a time during a vacation; our students had all left for home. It so happened that, that was the time a former Governor of the Central Bank of Nigeria (CBN), Sanusi Lamido Sanusi, was in the race for the emir of Kano. Many other people were also jostling for the position and were ready to cause trouble to realise the ambition.
"The aspirants started to enlist the support of students from universities at home on holiday. Those people approached our students, among others, and this story I am telling you was told by no other than the governor of Kano State at that time, who noticed that students from Crescent University Abeokuta on holiday in Kano refused to join them in the disturbance and that they said to students from other universities: 'We have been told never to be involved in this type of rascality anywhere in the world. We have been taught not to be part of any disturbance especially in our home state of Kano,' and that they never joined in causing trouble during the disturbance.
"That was a great joy to us because the person who came to tell us happened to be the governor of the state.
"Furthermore, one of our students, who graduated some years back with first class and went to Scotland, also came out with distinction in his master's programme. The university there commended her, first, for her upright character and, second, for being a student who was never absent in class throughout the year and was never late to class.
"The Dean of her faculty came out and said he had been there for the past 30 years and no student had scored up to 74 per cent like our product, Rafiat Gawat. She scored 74 per cent while the highest score before then was 70 per cent.
"When this lady came back to Nigeria, everybody started looking for her. The bank that gave her a job started transferring her all over Nigeria. But when she got married, she wrote to the management to say, 'Thank you for your job. I am now married; I have to leave'.
"They wrote back, 'Don't leave us. Just tell us where you and your husband will be staying. We must have our bank there and will make you the head of our bank in that region'. And they went to the place and made her the head of the bank in that region. At the end of the day, a company based in Switzerland got hold of her, gave her a job and currently she is working for that Swiss company.
wiss company.
"This and other students that we have produced make our products world class. Their display of academic soundness and moral excellence has been rare in post graduate schools in Nigeria and abroad and their respective places of work.  This gladdens my heart a lot and, at 83, I am saying alhamdulillahi."