BY NDAHI MARAMA, MAIDUGURI
The Borno State Police Command has on Saturday confirmed deadly suicide attacks at the outskirt of Maiduguri metropolis, which it said, two suicide bombers and a teenage boy were killed while four others seriously injured.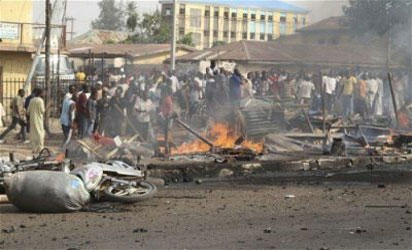 Just during the week, a suicide bomber struck around Muna Gari community of the metropolis, killing 20 people with 29 others injured.
According to the Police Public Relations Officer, Victor Isuku, in a Press statement said, "In the wee hours of today 18/11/2017, two female suicide bombers detonated their IED vest in the outskirt of Alakaramti village in Jere LGA, killing themselves alone.
"Then at about 0650hrs, two other teenage female suicide bombers infiltrated Alakaramti village. One of them hurriedly detonated her IED vest killing herself, her partner and an innocent boy.
"While four others, including the mother of the innocent boy, sustained injuries. The corpses and the injured have been evacuated to University of Maiduguri teaching hospital.
The police Explosive Ordinance Department (EOD) team promptly rendered safe the unexploded Improvised Explosive Devices, IED vests and sanitized the area. Normalcy has since been restored to the area". Isuku stated.