By Simon Ebegbulem
Edo State Police Commissioner, Mr Johnson Kokumo, weekend, explained how his men uncovered 40 illegal refineries at a forest located in Egono community, in Etsako West Local Government Area of the state, where six persons were arrested.
According to him, his men who were hunting for armed robbers and a kidnappers' den in the forest stumbled into the illegal refineries, which have separate compartments for refining crude oil into kerosene, PMS and diesel.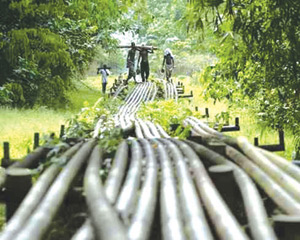 CP Kokumo, who briefed journalists after he visited the site, said: "The crude oil pipelines that run through the community were ruptured and a pipe was connected to pipelines where they pump crude oil to the drums where it is refined. The perpetrators of the illegal refineries dug the earth on several places where they store the refined products before they are filled into gallons and drums.
"My men arrested six persons but I am surprised that the people saddled with the responsibility of protecting the pipelines for NNPC did not discover this damage, which I observed has been existing for years.
"The activities of the operators have taken over the entire village. You can observe that the place has become ravaged. From what we have seen, they ferry the products through the river. My men have taken over the entire area."