Abuja – U.S. Deputy Secretary of State John Sullivan would visit Nigeria on Nov. 19 and 20, where he would lead the U.S. interagency delegation to the Bi-National Commission (BNC) meetings in Abuja.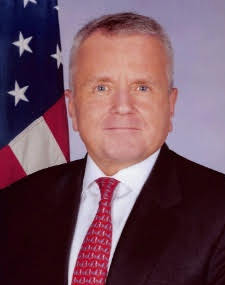 The high-level bilateral meeting between Nigeria and the U.S. would be hosted by the Nigeria's Minister of Foreign Affairs Geoffrey Onyeama.
The BNC is a collaborative forum founded during the first term of the former U.S. President Barack Obama's presidency.
Its stated mission is "to build partnerships for tangible and measurable progress on issues critical to United States' and Nigeria's shared future".
Working groups at the BNC would focus on security cooperation, governance and democracy, as well as economic growth and development.
The Deputy Secretary is the highest ranking member of the President Donald Trump's administration to visit Nigeria.
He would convey the U.S. Government's commitment to a strong partnership with the Government and people of Nigeria.
The United States-Nigeria Bi-National Commission last met on March 30 to April 1, 2016, in Washington, D.C.
The meeting was co-chaired by Onyeama and Antony Blinken, former U.S. Deputy Secretary of State, while former U.S. National Security Adviser Susan Rice provided opening remarks, and former U.S. Secretary of State John Kerry met the group and hosted a working lunch.
During President Muhammadu Buhari's visit to Washington, DC from July 20 to 22, 2015, Buhari and Kerry underscored the need to strengthen and revitalise the BNC to advance our overall relationship and spur joint action on key issues.
At a meeting on Nov. 13, 2015, between an inter-ministerial group led by the Permanent Secretary of Nigeria's Ministry of Foreign Affairs and the U.S. Ambassador to Nigeria, the two sides underscored the need to reinvigorate the BNC as a forum for focused and high-level discussions.
They identified three areas of focus namely: Security Cooperation, Economic Growth and Development, and Governance and Democracy.
The two sides subsequently developed a detailed agenda and added a working bilateral lunch on Multilateral Cooperation.