By Brown Oritseweyinmi Mene
THE first time I met Pa JOS Ayomike was in October of 1953 at the then Native Authority, NA, School,  Jakpa,  Benin River in the present Warri North Local Government  area. He was next in rank to the then Headmaster of the School, Pa E. O. Omagbitse of blessed memory. When the school closed for that year in December, both men left on transfer to Koko, the present Headquarters of the Warri North Local Government.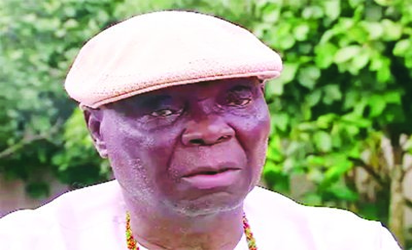 Mile stone marks from Japka to Gbokoda
JOS Ayomike returned to Jakpa in 1957 as the new headmaster of the school. His return was with his lovely wife whom he had married whilst he was away and who we all knew as "MISS", that being the respectable way by which we called all female teachers, because she too was a teacher in the school. Along with them came their first son, Bawo, who was only a toddler then.
He truly gave the school new impetus in every developmental aspect of the school. Inter-house sports was highly elevated and became regular with several innovations at his instance and involvement. He introduced triple jump for the first time as part our sports events.
Rhythm of the triple jump
I recall on few occasions, the whole school would pour out into the field for the individual practice and saying the words "hop- step- and jump" in unison as we practiced the rhythm of the triple jump until it became stuck in our minds. Triple Jump and Quarter-Mile Race were my events. He also promoted inter-school sports as more schools had become opened in Benin River at this time.
Under his leading and supervision, the actual distance from a particular point of the school premises was measured and earmarked at quarter, half and full mile spots. That was how we knew the distance from that point to a point in Gbokoda to reach the two- mile point.  He also ensured that we had social events especially at the close of the school year and to send off those who were leaving. That also served as a forum to develop talents. My role was in presenting recitations to the delight of listeners.
Surprised 'Re-union': Although we parted ways at the end of that time in Jakpa, he left a very deep impression on me, such that I was always excited at meeting with him afterwards. The first of such was in Lagos one evening as I was returning home from work. I spotted him as he stood to examine the giant billboard to advertise the Nigerian Tobacco Company, NTC. I stopped to greet him and gladly gathered that he was living not far from there and took the chance to visit him in Ajao Road, as I then lived at Akpan Crescent, both in Surulere. This was sometime in 1966/67. I later regained contact with him when he was appointed to serve as a commissioner in the government of the then Midwestern State.
Continued contact, vintage period: The longest period of continued contact with him became when he retired home to Warri and we jointly served in the Warri National Council created by His Majesty Atuwatse ll under the initial chairmanship of Chief Nelson Afejuku of blessed memory. That was in October of 1987.
In all the years from then till he breathed his last, a span of thirty years, Pa Ayomike remained the same charismatic personage of noble character, with a keen sense of history, intellectual prowess expressed in prolific writings of books, articles and lectures. He was easily seen as a walking encyclopaedia of historical accounts from all over the world, easily citing the likes of Julius Caesar, Mark Anthony, other works of Shakespeare, Martin Luther, Oliver Cromwell, Winston Churchill, Martin Luther-King Jnr, Nelson Mandela and a whole host of others, including many past Itsekiri nobles.
His knowledge and appreciation of history provided him with the vantage point from which to appreciate the need to give a proper word, and counsel, to proffer proactive steps to take, actions and projects to undertake today to correct perceived anomalies whether of the past or of the present, to ensure a more glorious tomorrow. To these ideals, and much more, he gave his all and fought a good fight for us to hold what is ours by right and improve on them today for a better tomorrow.
Those of us who share these persuasions found in him already meeting of minds and continued companionship. We were in constant touch, sometimes at his instance and vice versa at other times. I spoke last with him on September 2, about ten days to his demise. I had called again on October 3 but he was said to be asleep then.
Undoubtedly, his wife and companion of more than six decades will miss him. His children and grandchildren will miss him too. So will other members of his immediate and extended families. These will be in varying degrees of intensity. For us who were privileged to share the same concerns and aspiration for our collectively as Itsekiri people, Niger- Deltans, Nigerians, Africans and people of this world, we shall miss him in a special way.
We take consolation: We take consolation from the fact that he fought a good fight of his convictions and commitment. The evidence, in various forms, is there to remind, inspire and encourage us to keep the fire burning and the flag unfurled. The challenge is to take up the gauntlet and go beyond where he has left us.
We take consolation too from the fact he knew he was ready to go. He had been saying so since about ten years beforehand. He would quote apostle Paul, saying that like Paul, he had fought a good fight was ready to go. Beyond, that, he had steadily kept divesting himself of leadership roles, one after another.  Even when he would lead the imitative of some things to do for our collective interest, he would decline any suggestion for him to take any continuing role, saying his job was already at the finishing line.
We thank God who gave us Johnson Oritsegbubemi Sunday (J O S for short). May God bless and condole his dear and lovely wife, their children and grandchildren and up coming generations after them.
Adieu, Omi Neghen Neghen
You did indeed fought the good fight and finished your course. By the grace of God, we shall not be a let- down.
Chief Brown Oritseweyinmi Mene, the Ogwa-Olusan of Warri.