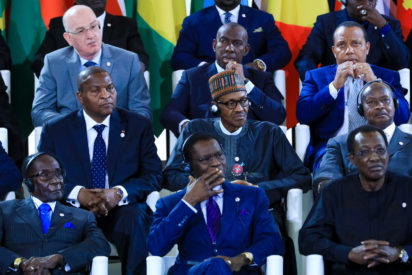 President Buhari with other world leaders at the 27th Africa-France Summit in Bamako Mali on 14th Jan 2017
ABUJA—THE Ambassador of Switzerland to Nigeria, Chad, Niger and ECOWAS, Eric Mayoraz and a non-governmental organization, International Network for Corporate Social Responsibility, INCSR, have advocated for better Corporate Social Responsibility, CSR, practice for development in Africa.
This was their position at the just-concluded two-day 3rd Africa Conference on Business and Human Rights, with the theme: 'Exploring The Relationship Between CSR and Sustainable Development in Africa,' held in Abuja.
Mayoraz, who was one of the guest speakers at the conference, said corporate organizations operating in Africa, particularly Nigeria are to respect the principles of human rights and business as contained in the United Nation's guidelines on private companies 2011.
He said: "The principle of human rights and the fact that private companies must respect human rights as the NGOs or the government is trying to do, is very important in establishing the United Nations guiding principles on private companies 2011."
On his part, the founder and President, INCSR, Mr Eustace Onuegbu, who also was convener of the conference said there should be a policy change, implementation and enforcement on CSR in Nigeria and Africa, generally.
The Swiss Ambassador pointed out that in his country companies are urged to apply and implement best global practices in abroad to do what is right.
"The conference is an important step and what we do in Switzerland is to encourage the private sector in Switzerland but is very important to abroad like Nigeria to respect the principles of the United Nations.
"In Switzerland we also have the national action plan as important measure for the private sector in collaboration with the government and non-governmental organizations to implement these recommendations," he stated.
According to Onuegbu, most multinationals are found wanting in terms of double-standard approach in carrying out their CSR, which he described as Corporate Philanthropy, CP, and not CSR in most things they do..