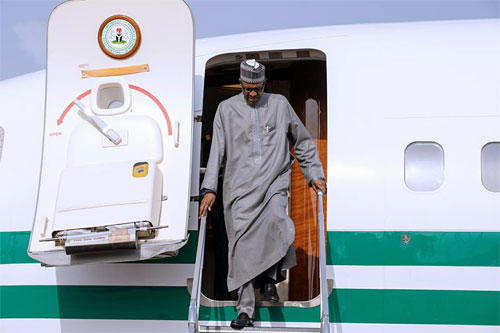 President Buhari and his wife Aisha in a group photo with top officials of the Nigerian Embassy in Turkey shortly before departing Istanbul Turkey for Abuja after participating at the Programme of the 9th D-8 Summit on 22nd Oct 2017 L-R: with Mr Wunti Abdullahi, Wife of the Ambassador Mrs Para Galda, Ambassador Mr I. A. Paragalda, Col Adamu Muktar, Mrs Kemi Osunnaike and Mrs Habibah Hunti
By Clifford Ndujihe
DISTURBED what they described as divisive political agitations across the country, which can hurt the 2019 general polls and Nigeria's democratic future, a host of political leaders and activists will hold consultation on the political future of the country in Abuja, toay.
Being organised by the Nigeria Political Summit Group, NPSG, a salad of eminen
t Nigerians expected at the round-table include: Professor Pat Utomi, Alhaji Rabiu Ishiaku Rabiu, Mr Donald Duke, Dr Olisa Agbakoba (SAN), Dr Jhalil Tafawa Balewa, Mr Femi Falana (SAN), Chief Dele Momodu, Mrs Charity Shekari, Professor Mallam Jibo Ibrahim, Mallam Nuhu Ribadu, Mr Alistar Soyode, Mr Fola Adeola, Dr Charles Soludo, Col Umar Abubakar Dangiwa (retd), Dr Mrs Kemi Jorge, Hajia Ramatu Dalhatu Musa, and Dr Mrs Elishama Ideh.
One of the Conveners, Mallam Nasser Kura, who stated that the Organised Labour and Civil Society would each nominate three leaders, said the parley is an ''exploratory consultative meeting towards fashioning an inclusive, non partisan, pan Nigerian political intervention on the democratic future of Nigeria with the sole aim of facilitating a broad national democratic engagement towards the 2019 elections and beyond.''
According to the NPSG publicity bureau, ''the non-partisan initiative on the future of Nigeria, is designed to be owned and driven by a cross section of credible new brand/emerging resourceful leaders from across the six geo-political zones of Nigeria.
''Consequently, about 90 new brand national leaders have been selected and invited to attend the inaugural close door round-table parley of facilitators of the historic pan Nigerian political Initiative scheduled. This novel political intervention by the NPSG is purposed to identify credible and resourceful new brand of leaders in the country to join hands with a select team of the country's leading lights and credible political leaders to initiate a credible momentum towards bringing about the popularly desired new Nigeria.''