By Luminous Jannamike
ABUJA – The Minister of Youth and Sports Development, Solomon Dalung, has vowed to ensure that Nigeria wrestles the FIFA World Cup trophy from Germany in Russia next year, saying "though global football is politics, the government is working very hard not to disappoint the people."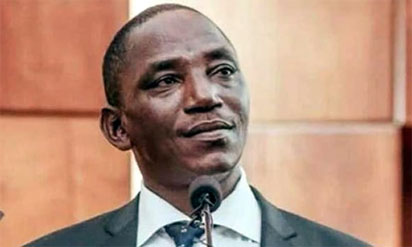 Dalung said this on Monday while briefing journalists on Nigeria's plans ahead of the global soccer fiesta billed to take place in Russia next summer.
According to him, works are underway to put the Abuja National Stadium in top shape so that the Super Eagles can play some high-profile friendlies at home before departing for the 2018 Mundial.
The Minister said: "Global football is politics. But for us we are working very hard. The effort we are putting up resulted in the outcome of our last friendly match against Argentina.
"As we speak, we are improving on the outcome of that match because we know that there are other stronger contenders we are likely going to engage them before the World Cup and play one of the matches here at home to receive the blessings, prayers and support of Nigerians before the World Cup.
"We are convinced and determined that we would do everything possible not to disappoint Nigerians. We are going to wrest the trophy and bring it to Nigeria."
Dalung also promised to ensure there was no political interference in the final selection of the players that will represent Nigeria in Russia.
According to him, part of the reforms the government is carry out in the Nigerian sports sector includes zero tolerance for interference in the composition of teams.
"Since Gernot Rohr came on board as coach of the Super Eagles, we have allowed him to exercise his discretion in determining the composition of the Super Eagles' team.
"I have spoken with him. His greatest plea is that he wants a situation the team will play at home and play in Abuja before leaving for the World Cup and we are working very hard to ensure the pitch is ready so that the team can play before leaving.
"But as for interference, that is no more part of the architecture of the administrative structure of governance of sports in Nigeria.
"Everybody who is given responsibility should be allowed reasonable space for discretion and initiative in choosing what is best," the Minister said.