Retired Permanent Secretary of Common Services Office of the Head of Civil Service of the Federation, and the Chief Executive of Finance Africa Ltd., Dr. Yemi Adelakun, in this interview with Favour Nnabugwu talks about his passion to provide Nigerians with quality affordable housing.
He also talks about how Nigerians can buy their own houses through mortgage financing and other sundry issues. Excerpts:
Could you state your name and tell us what you do?
My name is Yemi Adelakun. I am a retired permanent secretary and now trying my hands in the private sector. I am currently the Chairman and CEO of Finance Africa Limited, the company that is organising this housing finance conference.
What is the motive behind the housing conference?
First and foremost, we want to sensitize people for more awareness. Number two, we bring people from outside to tell us about global best practices and look at the Nigerian situation and how it compares to what is obtainable in other countries.
And number three, we look at strategies available to us to improve on the present situation such that we will be able to deliver affordable housing to more people at reduced prices and at single digit interest rate, both for construction finance and for mortgage finance.
That is by and large the purpose, and by extension, we create opportunities for all the stakeholders to network and understand their own point of view and see how they can come together and make it possible.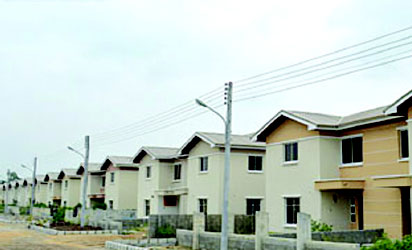 Along this line, we are going to look at the legislators to come out with possible legislations that could make affordable housing a strategy, a continuous thing in Nigeria, not just once and for all thing and we cannot leave affordable housing to private sector practitioners alone.
The government  everywhere in the world must take the lead and that is why we believe that we are bringing the policymakers together, the private sector, the financiers, the off-takers, everybody has a role to play. So, let's sit down on a round table and see how best we can perform our different roles.
What are the major problems facing housing in Nigeria?
Number one, land is very important to delivery of affordable housing. By the time you take away the problem of land, you would have taken 30% of the problem off. We cannot continue to depend on market prices to buy land, this is where the government comes in.
At first, it might look like it is a free offer but if you give land to people, they build on it and at the end of the day, you will be charging tenement rate, people would be paying all kinds of taxes, you would have created employment for people so that some of the social problems we have in the country would have been solved.
Number two, technology is very important to affordable housing. We still depend largely on the traditional method of building but around the world today, we have technologies that can build four houses a day.
So, with the kind of deficit in housing in Nigeria, we cannot continue to depend on block and mortar. Let's bring in new technology. You don't have to reinvent the wheel, you just have to adapt what others have done to our situation and adopt.
The third is skill. We still bring people from across the sub- region into the housing industry. To engage ordinary tilers in Nigeria, we must go to Togo and Ghana to bring them. We need to develop our own skills locally. We cannot continue to talk about unemployment and we are bringing people from outside to do ordinary jobs like painting, POP and so on.
And the fourth and the most important of it is finance. Until we can make that money available to the people at single digit interest rate, we are just begging the question. All the money we are throwing at developers should be directed towards off-takers. When it goes to the off-takers, the multiplier effect of that will get into the hands of developers because when they know that the off-takers are funded, they can go and borrow and build with the assurance that at the completion of that exercise, the off-takers are there to buy off the property from them.
How will the housing sector not be affected by the same problem that affects every other sector in Nigeria?
In every part of the world where they are serious about addressing housing issue, the government takes the lead and I can give you several examples. Malaysia is one, Singapore is another, South Africa is another. They come out with intervention fund and intervention fund is not new to Nigeria, we have done it for Agriculture, Aviation and for so many other sectors, let's do it for this very important sector.
And it seems we have not actually understood the role that housing can play in the growth of the economy of Nigeria. The multiplier effect of the housing sector is so enormous that  for every house you build, you are employing not less than seven people.
There must be an electrician, labourers, masons, tilers, painters, carpenters. This alone should encourage the government to see to the development of the housing sector.
And what do we do? Once you create that intervention fund, it becomes a revolving fund that would continue. Take for example the sale of government houses in Nigeria sometime in 2007 or thereabout. The money realised from those buildings if it had been reinvested, by now we would not be talking about this huge deficit because it would have continued to roll over and over.
So, all I am saying is that the government both the executives and the legislature have a role to play. In order to make it statutory, regardless of the party in power at any time, it should be legislated. We need affordable housing bill that would stipulate the rules and regulations and sanctions for the operators of that system.
So, if you can do that and if the federal government can create that window and this time not for developers, but to empower the off-takers to give them the purchasing power. There are so many developers outside Nigeria that want to come in if they are sure that the off-takers have the purchasing power to buy the property.
Are we shifting focus away from the supplier sides to the demand side?
Yes and once you take care of the demand side supplier side would be taken care of automatically.
Where does NISH now come into this picture you have painted. It is obvious that we are in a situation where profit motive alone cannot drive this sector and you have floated this body
How does the Nigeria Integrated Social Housing (NISH) come into play?
As you rightly said NISH is Nigeria Integrated Social Housing initiative, it is a private sector initiative, it is not government. My idea of coming out with NISH comes from my experience in the civil service, 35years or thereabout in the civil service and the last 3years as a permanent secretary especially when I was in common services office where the opportunity to chair the federal integrated staff housing programme which was specifically for serving civil servants. And at the same time I was the chairman of the federal government staff housing loan board.
All that experience domestically put together with my experience overseas when I was serving in Nigerian diplomatic missions across the world, I saw the gap that is creating this housing deficit in Nigeria and in order to clog the holes I came out with this NISH idea.
What is NISH? NISH is a one-stop housing agency that networks all the stakeholders in the sector; from the developers to the financiers to the off-takers including the policy makers. Most of the permanent secretaries in charge of housing now are my colleagues and friends, so I hope to use that relationship to leverage on the outcome of some of the things we are doing.
And first of the housing conferences we will be doing is this one coming up on November 28 and 29 2017, it will be an annual event and this promise to bring people from across the world.
We have got confirmations from Kaigamas in Malaysia to see how they have been able to deliver on affordable housing at 3% interest rate. We are having people from international union of housing finance, we are getting people from Sacros of Kenya and many more like that, so that we can share experiences.
The two day programme will be just one day of talk show and the second day would on action detailed plan, strategy to implement those actions. You could be seeing some MoU's signed during the event especially on the second day and particularly the sub theme of the conference is achieving the single digit interest rate for affordable housing in Nigeria.
We know it is doable because it is been done elsewhere, it is also doable because it has been done before in Nigeria. Between 2001 and 2006 when the sold their houses, people were able to attract loans from Aso Savings at 7% that was government policy.
So what we are asking for is not just a new thing, it is done and even currently Federal Mortgage Bank is giving out loans to members of the NHF at 6%, federal government staff housing loan is giving out loans at 4%, the question is, do they have the funds to meet the demands of the off-takers?
So what government needs to do is to empower these traditional institutions to make sure that they are able to perform their role and make sure that they don't divert funds to developers because in the past funds from Federal Mortgage Bank were invested in developers who built houses that nobody can buy, who built houses that nobody wants to live in. So those are the areas that NISH wants to address, we identify these things and proffer solutions.
Why are you more on the demand side?
You are very correct. But if we are serving the buyers we are equally serving the sellers because what is the point in building houses that nobody wants to buy. Before you start building you would have identified those who want to buy it and ensure that they have the capacity to buy it. So even if you are going to raise money from the market, it would be very easy.
Most of the developers they ask you of off-takers guarantee, bankable off-takers guarantee; where do you get that bankable off-takers guarantee from? It must be from mortgage availability for the off-takers.
So yes the focus would be on the off-takers. Yes we are championing the course of the off-takers but at the same time we will be championing the course of the developers especially those who are not out to make excessive profit.
I must make this correction; if you want to achieve affordable housing it is not for contractors. Anybody, any agency, any institution that believe that they can deliver affordable housing giving out contracts, is a joke because for a contractor the minimum expectation would be 30% – 40% margin, you have thrown the course of affordable housing off tangent totally.
How can you cope with NISH better than when you were in government?
It is an advantage for me because now I used to be a member of the bureaucracy now I am a private sector person; so bringing the two ideas together I think I am at a vantage position to see how best to approach this and knowledge is power because you cannot discount experience, that experience not only in Nigeria, in those other countries that I have served as a representative of Nigeria in the diplomatic missions there, those are the things that is propelling me towards this course and I believe it is achievable; they have done it elsewhere our own should not be different.
So all we need to do, I am not claiming any expert knowledge but we can see what others have done, adapt it to our situation and adopt, it is doable.
And really I am not against contract, yes most of government businesses should be by contract but when we are talking of affordable housing, in some other countries they have non for profit developers, we can attract them, let the contractors continue with market driven houses, we will still have that.
There are a lot of Nigerians who have money to buy at market price but for those who cannot, somebody must be able to champion that course to make sure that they also have roof over their heads because shelter is one of the basic needs of a human being according to Manslo's hierarchy of needs. So theirs must be taken care of. If you give it to developers, you cannot achieve it.
How did manage to pull the stunt of stakeholder from all sectors?
We have enough commitment from all the stakeholders, from the executive to the legislators, from the private sector developers to multilateral institutions and you will see that day by the grace of God that we have a robust setting that will give us a lasting solution to towards delivering of affordable housing to the medium and low income earners in Nigeria.