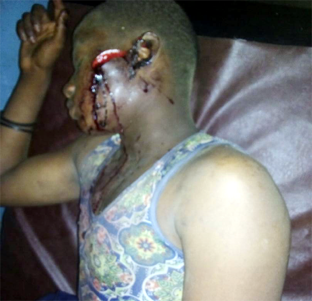 One of the injured
By Ola Ajayi
Ibadan—No fewer than 10 people are in critical conditions in a private hospital at Igangan, Oke Ogun area of Oyo State, following injuries they sustained in a clash between farmers and herdsmen in the area.
The victims were allegedly attacked with machetes and other dangerous weapons by the herdsmen, who accused their hosts of killing about 15 of their cows in the last two weeks.
Vanguard gathered that the farmers were accused of putting poisonous tubers of cassava and other items on the grazing tracks.
One of the residents of Igangan, who disclosed that the villagers now live in fear, said the quick intervention of the National President of Jamu Nati Fulbe Association of Nigeria, Alhaji Saliu Kadir, who also doubles as the Sarkin Fulani of Igangan, restored temporary peace.
Emergency meeting
Speaking after an emergency meeting the Fulani community had with the Police, Army, Nigerian Security and Civil Defence Corps, NSCDC, and the Department of State Services, DSS, Alhaji Kadir disclosed that "15 cows have been killed by the farmers.
"They poisoned some crops which they put on the tracks that the cattle usually take. My people actually wanted to avenge the death of their cattle, but I calmed them down by telling them that Governor Abiola Ajimobi, the Commissioner of Police and other security agencies in the state should be allowed to address the issue.
"I believe they will attend to the issue without delay."
He recalled that there is an existing agreement between the Fulani herdsmen and the farmers on the modalities for payment of compensation in the case of any straying cattle encroaching into farmlands, but lamented that the agreement is now being abused by the farmers.
He noted: "There are times that the farmers would make us pay heavy compensation that is not commensurate with the crops destroyed by the cattle. Yet, we pay the compensation without complaining."
Peace meeting
At a peace meeting summoned to calm frayed nerves, one of the farmers in the area, Chief Oludele Oyedepo, Baale Agbe Tapa, also called for peace.
He said: "We agreed at one of our meetings that a farmer has the right to apply any chemical on his crops, but what is the justification for putting poisoned food on the footpath for cattle?
"Sarkin called me one day and said someone should take me to a grazing track. I used my hand to pick many tubers of poisoned cassava on the path.
"At another time when we had a meeting at the Police Commissioner's office, there were about 11 bags of such items brought to the CP's office as proofs. It is better we live in peace with one another."