By Chioma Obinna
Next Sunday (November 12), the world will mark the World Pneumonia Day to remind about the deadly disease that kills a child every 20 seconds globally.   Although pneumonia is also one of the solvable problems in global health, it accounts for one in four under- five deaths. 1.5 million children die from pneumonia and diarrhoea each year.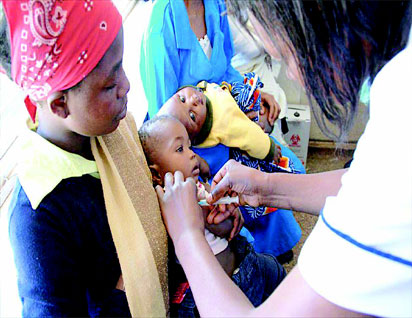 The situation is compounded by ignorance as many Nigerians believe it is commonly caused by exposure to cold weather.
This is evident in a new report released last Thursday by the International Vaccine Access Centre, IVAC, which showed that Nigeria ranks among countries that contribute 70 per cent of global burden of pneumonia. Stakeholders say it is time to stop the trend and save the lives of Nigerians.
Sunday Vanguard examines the severity of pneumonia and why actions should be taken to reduce the burden.
"I was touched by the story of a 12-month- old -girl who was suffering from pneumonia", a nurse in one of the Primary Healthcare Centres, PHC, in Lagos told Sunday Vanguard.
Baby Ijeoma had cough, fever, and difficulty in breathing. She was rushed to the PHC by her mother. After laboratory tests of x-rays and culture of the sputum, she was diagnosed with pneumonia. Ijeoma died days later.
Also, Mr. Gabriel Olu, 35, had productive cough, fever accompanied by shaking chills, shortness of breath, sharp chest pains during deep breaths and increased respiratory rate.   Gabriel was always feeling confused. He was diagnosed with pneumonia but he died two weeks later.
Their deaths are among the estimated 6.7 million cases of pneumonia recorded in Nigeria annually with about 200, 000 children under the age of five dying from the preventable disease.
According to experts, pneumonia is an infection in one or both lungs. Many germs, such as bacteria, viruses, and fungi, can cause pneumonia.   It is not a single disease and can have more than 30 different causes. The most common bacterial type that causes pneumonia is streptococcus pneumoniae.
Pneumonia can also be fatal. The mortality (death) rate is up to 30 per cent for patients with severe pneumonia who require treatment in an intensive-care unit. Overall, around 5-10 per cent of patients who are treated in a hospital setting die from the disease. Pneumonia is more likely to be fatal in the elderly or those with chronic medical conditions or a weakened immune system.
While Nigeria is battling with the recent report by the World Health Organisation, WHO, which shows that Nigeria topped the list of countries with unvaccinated children from measles, coupled with the   latest Multi-Indicator Cluster Survey, MICS/ National Immunisation Coverage Survey, that also   showed that the country is still far behind the Global Vaccine Action Plan, GVAP, of achieving 90 per cent vaccinations of children, the 2017 International Vaccines Access Centre, IVAC, report released on Thursday showed that Nigeria not only ranks among countries with the highest burden of the disease but also among the countries that are yet to scale up interventions aimed at reducing the deaths and treating effectively. Health watchers are worried that more Nigerians may lose their lives if nothing is done urgently to arrest the trend.
The IVAC report tagged,   "2017 progress updates towards 10 key indicators of success in the 15 countries with the highest pneumonia & Diarrhoea", showed that out of 15 countries, Nigeria, Somalia, Chad and China performed lowest.   Critical health watchers are also of the view that Nigeria is not yet on track in interrupting the high prevalence of pneumonia and other childhood killer diseases.   According to the report, pneumonia and diarrhoea account for 25 per cent of under-five deaths globally and also showed that Nigeria and others contribute 70 per cent of the deaths.
Meanwhile, WHO says that although pneumonia is preventable and treatable, every 20 seconds, a child somewhere in the world dies of the ailment, making it the number one killer of children in the world. The global body, in the 2017 median overall of the Global Action Plan for Pneumonia and Diarrhoea (GAPPD), of the target of 86 per cent achieved when a country meets the minimal targets for each of the 10 GAPPD interventions, Nigeria scored only 30 per cent.
The Chairman, Pharmaceutical Society of Nigeria Partnership for Advocacy in Child and Family Health, PSN-PACFaH, Henry Adenigba, explained that a state like Lagos, which is fast growing, contributes 10 per cent and nine per cent of the burden of pneumonia and diarrhoea despite the presence of manufacturers of approved drugs there.
"For every 100 children deaths in Lagos State, pneumonia and diarrhoea jointly account for 19 of those deaths", Adenigba said.
He called for proper management of pneumonia and diarrhoea through the inclusion of Amoxicillin DT and Zinc- LO-ORS (Co -pack) as first line treatment for the two childhood killer diseases.
According to him, there is also the need to increase health budget because WHO recommends 15 per cent of the national budget for health.
A former President, Paediatric Association of Nigeria, PAN, Dr Dorathy Esangbade, also said there is need to save children under the age of five from dying from pneumonia and other pneumococcal disorders.
To her, the Federal Government should step up commitment by urgently ensuring that pneumococcal vaccine is available for the immunisation of infants at risk.
According to her, prevention through immunisation with the Hib and pneumococcal vaccine is the most effective way to change the face of pneumonia in Nigeria and the rest of the world.   Esangbedo lamented that pneumonia kills more children in Nigeria than in any other country in Africa despite the fact that there are vaccines, medicines and treatments that could save the children's lives.
"Pneumonia is the world's No.1 killer of children aged five years or less. Vaccines are a safe and effective tool for preventing pneumonia before it occurs.   If only Nigeria and the world in general could prevent pneumonia from happening in the first place, more lives would be saved. Pneumonia is an economic burden for families and communities because the financial costs include hospital stays and medications, transportation to health centres and the caretakers' inability to work or take care of other family members while they are caring for a sick child", she said.
Can cold weather cause Pneumonia?
In a report, Dr. Omons Okumale, of Perfect Health Initiative, says pneumonia is caused by germs and not cold weather. "If it was due to cold, all the children in cold regions abroad would have contracted it by now", Okumale said.
"When this bacteria or virus gets into the body either through the mouth or other openings in the body, it goes to the gut and contaminates the blood and goes into the respiratory apparatus to cause problem there. That is pneumonia.
"People must understand that the most viable way pneumonia is transmitted is through germs contracted under poor sanitation and hygiene.   It is not prevented or treated by wearing clothes that cover every part of the body or being in a warm environment."   He said children exposed to cigarette smoke, those who do not participate in routine pneumonia immunisation and those exposed to smoke from charcoal or firewood are more at risk of the disease.
Stating that the myth about cold being a causal effect may not be totally discarded, the expert said the assumption could have an element of fact as the germs causing the disease thrive more in cold weather, but does not mean cold is the source of the disease.
He said there were different bacteria or viruses responsible for pneumonia.   "There are anti-bacterial drugs for the pneumonia caused by bacteria, which usually is administered over a long period of time. But with the new drugs developed, the medication might last just few days. If the pneumonia is severe and the person is having fast and short breathe, it is necessary to put the person on oxygen as a temporary measure before treating for pneumonia itself", Okumale said.
Other experts say clean environment has a major role to play in the prevention of pneumonia, hence the need to immunise children against pneumonia.   People should also live in well ventilated environments. Offices and other closed rooms should be well ventilated as well.
Common causes of pneumonia:
Streptococcus pneumoniae, a type of bacteria, is the most common cause of pneumonia. Legionella pneumophila is the bacterial type that causes the pneumonia known as Legionnaires' disease. Other bacteria types that can cause pneumonia include the bacteria that cause so-called "atypical" pneumonia, Legionella pneumophila, Mycoplasma pneumoniae, and Chlamydophila pneumonia.
How it starts/spreads:
You can get pneumonia in your daily life, such as at school or work. You can also get it when you are in a hospital or nursing home.   Pneumonia usually starts when you breathe the germs into your lungs. You may be more likely to get the disease after having a cold or the flu. These illnesses make it hard for your lungs to fight infection, so it is easier to get pneumonia.   Having a long-term, or chronic, disease like asthma, heart disease, cancer, or diabetes also makes you more likely to get pneumonia. When you have pneumonia, oxygen may have trouble reaching your blood.
Signs and symptoms:
These include fever, chills, cough, shortness of breath, and fatigue. Community-acquired pneumonia (CAP) is acquired outside of the health-care setting and is typically less severe than hospital-acquired pneumonia (HAP). About 20 percent of those with CAP require treatment in a hospital. Symptoms of pneumonia caused by bacteria usually come on quickly.
They may include coughing up mucus (sputum) from your lungs. Mucus may be rusty or green or tinged with blood. Fever – Fast breathing and feeling short of breath. Shaking and "teeth-chattering" chills. Chest pain that often feels worse when you cough or breathe in, fast heartbeat, feeling very tired or very weak, nausea and vomiting and diarrhoea. When you have mild symptoms, your doctor may call this "walking pneumonia." Older adults may have different, fewer, or milder symptoms. They may not have a fever.
Immunisation:
A vaccine is available against the most common bacterial cause of pneumonia, Streptococcus pneumoniae (pneumococcus). There are two types of vaccine: PPSV23 (pneumovax), a pneumococcal polysaccharide vaccine against 23 types of the bacteria, and PCV13 (prevnar 13), a pneumococcal conjugate vaccine that protects against 13 types of the bacteria. These vaccines may not always prevent pneumococcal pneumonia, but they may prevent serious complications of pneumonia if it does occur.
Subscribe for latest Videos