By Nwafor Sunday
Residents of Ozobulu and Uga respectively have lauded Governor Obiano of Anambra State for another commendable achievement by his administration, adding that the ongoing road construction from Afor ilo Nza Ozubulu to Afor Ukpor and Uga to Nkpologwu road would transform and boost their various economic activities.
Reports have it that the projects are being executed by Doliz Brown Construction Company, an indigenous company.
Chidi Megwatam, former President-General of Ozubulu community in his reaction to the ongoing road construction, hailed the governor and promised  that Ozubulu electorate will vote en-masse for him in appreciation of his good works in Anambra State.
Similarly, President-General of Ozubulu, Chief Bonny Onwatu (Ubanese) in his reaction referred to Obiano as a transformational governor that is busy transforming Anambra State to a modern state.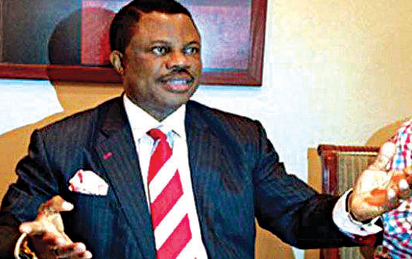 He said that the people of Ozubulu were happy with the ongoing construction work at Afor ilo-Nza Ozubulu Road, especially the fact that Obiano awarded the project to their son, Chief Omenife izuegbu, MD Doliz Brown Construction Company, noting that it was a show of confidence by the governor on the ability of the company to deliver quality job that will withstand the test of time. On the other hand, the people of Uga and Nkpologwu also expressed their joy over the ongoing construction of their roads.
Sir James Umezulora in his reaction commended the governor for the ongoing project, saying the people of Uga are happy with Obiano's kind gesture, which they will pay him back with their vote, during the November 18 election. Chief Omenife Izuegbu, the MD of Doliz Brown Construction Company and the National co-ordinator of New Nigeria initiative for good governance said that Governor Obiano's mission in Anambra State is to transform Anambra State and that the mission is being actualised.
He said that the people of the State are indebted to Governor Obiano for his good works in the State and that they will use the forthcoming November 18th election to pay the debt by returning him to office for second deserved term.
He urged stakeholders from Ekwusigo Local government to endeavor to attend a meeting that will be sponsored by him at the Council secretariat to enable them deliberate on November 18th election. Chief Omenife izuegbu further said that the task of returning Governor Obiano to office is a patriotic task and that all hands must be on desk for its actualization.