By Chinonso Alozie, Owerri
Imo State governor, Rochas Okorocha, yesterday, accused the oil companies in the state of causing crises in their host communities.
The governor was said to have made the statement, through his Chief Press Secretary, Mr. Sam Onwuemeodo, when Minister of State for Petroleum, Dr. Ibeh Kachukwu, visited him at the government House, Owerri.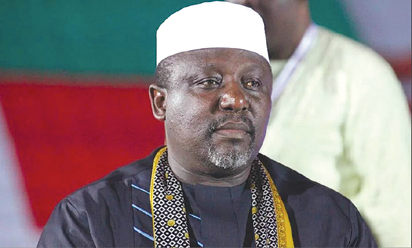 According to the statement, "Welcoming the Minister, representatives of the Oil Companies and the Stakeholders from Oil Producing Communities to the meeting, Governor Rochas Okorocha stated that the Oil Companies Operating in Imo State behave in such a manner that they end up creating crisis for the state and problems among the youths and stakeholders in the Oil Producing Communities through factionalization and cult activities which always lead the people of the communities killing themselves.
"Today the state government spends almost N65 million monthly to pay security agencies to maintain peace in Ohaji/Egbema and Oguta.
Meanwhile, we don't benefit directly. Last time we carried out an amnesty programme where we had to engage 2,833 youths."
Speaking also, the Minister said: "Oil will not be an asset in the next 30 years. So, the host Communities should maximize their benefits now and put it to proper use and Oil Companies must start negotiating with the host Communities and the government to know exactly what they need as part of their corporate responsibilities."