The Osun state government has celebrated the administration of Governor Ogbeni Rauf Aregbesola for clocking seven (7).
In a statement by the state government, it thanked God for the Rauf Aregbesola led administration and tabled out activities lined up to mark the occasion.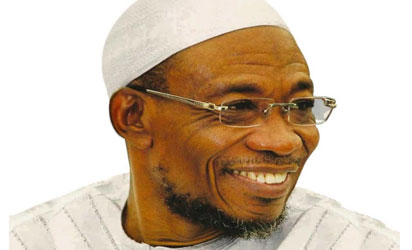 According to the statement,
"With special thanks to almighty God and appreciation to the good people of the state, the Government of the State of Osun is announcing the celebration of Governor Rauf Aregbesola's Seven Years Administration.
Activities for the celebration are as follows:
Special Jumat Service @Osogbo Central Mosque
Calisthenics Display at Osogbo City Stadium by 9am
Sunday Service @All Saints Anglican Church, Balogun Agoro, Osogbo
Enroute Rauf programme @ Atlantis Civic centre, Osogbo by 10am
Governor Cup Final at Osogbo City Stadium
Anniversary broadcast by Governor Rauf Aregbesola on OSBC by 7am
Grand Breaking ceremony for water project in Ilesa by 10am
Vice President, Prof Yemi Osinbajo launches  Micro, Small and Medium Scale Enterprise Clinics at the Nelson Mandela Freedom Park, Osogbo.
Wednesday – Ogbeni will be on spot at the TVC Breakfast Show.
It is noteworthy, and there is no gainsaying the fact that the state of Osun has been witnessing sparkling infrastructural and socio-economic development since Ogbeni Rauf Adesoji Aregbesola took over the mantle of leadership on November 27th, 2010. The all round progress and transformation of the state is incontestable.
In all ramifications, Aregbesola has delivered the dividends of democracy to every house hold in the state with either the infrastructure projects or the social security programmes.
The celebration is deserving,  with many national and international accolades being showered on Governor Rauf Aregbesola's landmark programmes and projects that have brought Osun into limelight.
The government commended the people of the state for keeping faith with and supporting the administration of Governor Rauf Aregbesola.
The government calls on the people of the state to intensify prayers for the state to continue progressing and developing in peace and harmony."