The midday deadline set by Zimbabwe's ruling party for President Robert Mugabe to resign passed Monday with no word from the 93-year-old leader, who is now set to face impeachment proceedings.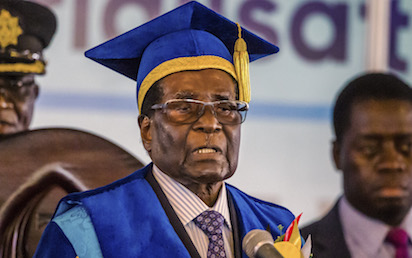 Parliament is expected to vote on impeachment proceedings on Tuesday and the ruling Zanu-PF party released details of its proposed motion against Mugabe.
"We are gravely concerned that the president has become the country's source of instability by his indiscriminate and continuous dismissal of members of his cabinet – including two vice presidents in the past four years on allegations of plotting to assassinate him and forcibly take over power," the motion reads.
The expelled vice presidents referred to are Joice Mujuru and Emmerson Mnangagwa.
It also mentions Mugabe's poor management of the economy and his abrogation of "his constitutional mandate to his wife" Grace.
David Coltart, a prominent opposition leader and former minister, said he believed impeachment will now go ahead.
"I expect that the impeachment proceedings will now commence," he said. "They could do it tomorrow afternoon if they can get the two-thirds majority."
Douglas Mwonzora from Zimbabwe's main opposition Movement for Democratic Change (MDC) also said the party would support Mugabe's impeachment.
"We have the numbers in parliament and will support any democratic process to have Mugabe impeached," he said.
Mugabe has been under house arrest since a military takeover last week.
In a live televised address to the nation on Sunday night, the president of almost four decades had been expected to resign, but instead promised to lead a Zanu-PF party conference in December.
With the generals responsible seated next to him, Mugabe gave a lengthy speech acknowledging some problems with the economy and the Zanu-PF party – from which he was ousted earlier in the day – but made no mention of leaving office.
Shocked Zimbabweans took to Twitter to express their outrage, and on Monday the powerful war veterans' association held a press conference calling for mass protests on Wednesday.
"I hope that 37 years into [his] rule he doesn't want another 37 seconds of rule," said war veterans' leader Chris Mutsvangwa.
On Sunday, Mugabe was sacked as Zanu-PF party leader and replaced by one-time comrade turned arch-rival Mnangagwa.
"Arrogant Mugabe disregards Zanu-PF," screamed Monday's headline in local newspaper the Daily News.
In an unprecedented outpouring, tens of thousands of Zimbabweans had taken to the streets on Saturday to express support for the military and call on Mugabe to leave power immediately.
Former finance minister Tendai Biti, who is a trained lawyer, told dpa that the best scenario was for Mugabe to resign because impeachment is not a one-day process.
"The process is tedious and it might take some days. Zimbabweans want him to resign today," he said on Monday.
University students have joined calls for Mugabe to step down, with protests at the main university in Harare. The students are also demanding that a doctorate given to first lady Grace Mugabe be revoked.
"Mugabe should resign now because he has returned our education to Stone Age era. We also want our degree, which Grace stole," said student leader Steven Tsikirai.
Exams which were supposed to be taken on Monday have been postponed.