The National Agency for Food and Drug Administration and Control, NAFDAC, yesterday, uncovered 30 different banned and unregistered products worth millions of naira in Onitsha, Anambra State, an official has said.
Mrs Christiana Essenwa, a Deputy Director of NAFDAC, said this when she conducted newsmen round the uncompleted building where the contraband were discovered.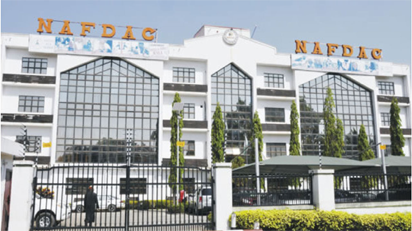 She listed some of the banned products to include rice, vegetable oil, tomato paste, tomato ketchup and toilet and medicated soaps.
The list includes, among others, dairy products, hand wash, creams, cosmetics, toothpaste, furniture, plastic products, electrical cables and textiles imported in a 40-foot container.
Essenwa expressed concern that in spite of the Federal Government ban, some businessmen ignored the hazards the banned products pose to unsuspecting consumers.
Her words: "These contraband items are written in foreign language; it is difficult for consumers to know the content of the products, making it hazardous for consumers in the country.
"For instance, these foreign toothpastes contain saccharine, which is not allowed in the country; the vegetable oils do not have the eye logo, signifying that they are not fortified with Vitamin A.
"We are going to confiscate every item and get them ready for destruction," Essenwa added.
She said some of the seized products such as textiles, cables and plastics also required the involvement of the Standards Organisation of Nigeria, SON, to certify the authenticity of the items.
Cautions consumers
The Deputy Director said the discovery was made following a tip-off and urged the public to be circumspect before picking products on display in the market.
She said: "Check whether they have NAFDAC registration number; whether the labelling is alright; whether it was written in foreign language; manufacturing address and, of course, the expiry date."
It's economic sabotage—Industrialist
Also speaking, an industrialist, Mr. Steve Evans, the Manager of Evans Industries Limited, decried the importation of fake products into the country, describing the act as "economic sabotage."
Evans urged the Federal Government to step up its surveillance on fake products being dumped in the country.