By Simon Ebegbulem
THE National Agency for the Prohibition of Trafficking in Persons, NAPTlP, in collaboration with the Motorsports Club of Nigeria, MSCN, weekend, held a track race in memory of the 26 Nigerian girls found dead in an Italian ship.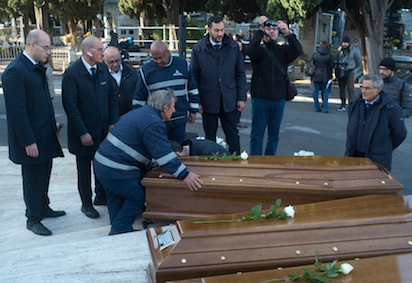 The event took place at Evbuobanuosa, Orhionmwon Local Government Area of Edo State. Director General of NAPTIP, Juli Okan-Donli, who noted that Nigeria was yet to get the official report of what transpired from the Italian government, said, however, that they are in touch with Italy with a view to unravelling the circumstances that led to the death of the girls.
She lamented further that several Nigerians have been killed and their organs removed, appealing to parents and relations to admonish their children to stop embarking on illegal trips abroad.
She said: "This event is in remembrance of the 26 young Nigerian women who died while crossing the perilous sea this month. Many of them could be our sisters, but they are no more. So many unaccounted victims of human trafficking have lost their lives crossing the Sahara desert.
"These incidents are sad reminders of the demerits of human trafficking. These victims erroneously believed that the grass is greener over there in Europe. Seeking for greener pastures may be legitimate, but it must be done in the right way through proper procurement of documents."
She further disclosed that between 2003 and today, NAPTIP has got 334 convictions across the country, pointing out that human trafficking has been mostly as a result of ignorance, "so we decided to partner with MSCN to sensitize the people and the youths on the dangers of human trafficking in Nigeria," she added.