•Says diabetes kills only careless people
By Daud Olatunji
FORmer President, Chief Olusegun Oba-sanjo yesterday narrated  how he had been managing diabetes for  the past 30 years, saying diabetes killed only those he described as "careless" people.
Obasanjo  stated this shortly after leading hundreds of people on road walk for diabetes awareness to commemorate the 2017 World Diabetic celebration, organized by the Olusegun Obasanjo Foundation and the Diabetic Association of Nigeria (DAN), Southwest zone, in Abeokuta, Ogun State capital.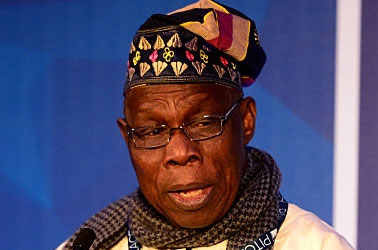 Obasanjo  who was joined on the road walk by the Oluwo of Iwoland, Osun State, Oba Abdulrasheed  Adewale Akanbi, Commissioner for Health in Ogun State, Dr. Babatunde Ipaye, Chief Executive Officer of Olusegun Obasanjo Foundation (OOF), Dr.. Olalekan Makinde and top members of the diabetic body from Lagos and Osun states, boasted that diabetes was not a killer disease.
The former President who noted that he was above 80 years and could walk with agility despite being diabetic (covering a distance of 1km uphill of the distance on foot during the walk), lamented that many of the nation's youths rarely engaged in exercise.
His words: "Diabetes is not a disease that should kill. I was diagnosed to be diabetic more than 30 years ago but I am growing strong. If you don't believe I am growing strong and you didn't witness this walk, come and see me at night, you will know I am growing strong, come and see me in the morning, you will know I am growing, even in the afternoon, you will know I am growing strong.
"What is necessary is management of diabetes. Some people said some diseases are incurable, but diabetes is manageable.
"My headmaster in primary school was diagnosed at the age of 50 and died at age 85, you will agree with me that he tried. What you can do is that if you're diabetic, don't be nonchalant about it and don't eat carelessly. Three things are important: The food you eat, regular exercise and prescribed medication, those are the three most important things.  You can be diabetic and still live till 100 years. I don't know when I will die but I am above 80 and many of the youths could not catch up with my pace during  the exercise this morning, many of them were running after me.
"This is my message. Whether you're diabetic or you have a family or a friend who is diabetic, you should know that diabetes is not a killer disease or it should not be a killer disease unless you are careless," Obasanjo said.
The Monarch in his brief remark said he was in Abeokuta to support Obasanjo in the awareness walk, urging people to always take their health seriously.
Also, the Foundation Chief Executive Officer, Dr. Makinde said it was in pursuit of one of the objectives of the Foundation in the area of Health (Non Communicable Disease, NCD) that prompted the walk awareness programme.
According to him, "the focus this year, is on women, because of the high level of morbidity and mortality that have been associated with them. I want to enjoin Nigerians to join hands with the Foundation to further create a better life for all Nigerians and Africans.
In a lecture, with the theme: "Women and Diabetic: Our Right to Healthy Living," former chairman of DAN, Prof. Sunny Chinenye called for concerted efforts by all to check the menace of diabetes. He  declared that the greatest point of the spread of the disease was at the primary  stage