By Emman Ovuakporie
ABUJA—THE House of Representatives Ad-hoc Committee probing the reinstatement of former boss of Presidential Task Force on Pension Reform, Abdulrasheed Maina, has invited critical stakeholders involved to a two-day investigative hearing.
In a letter sent to all the stakeholders, the committee demanded that they should appear before the investigative panel on Thursday and Friday.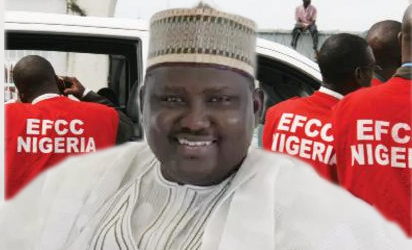 Recall that on October 24, in a motion promoted by Jagaba Adams Jagaba (APC, Kaduna) under matters of public importance, the House moved that an ad-hoc committee be set up to investigate the matter.
The motion was entitled: 'The Disappearance, Appearance, Appointment and Final Dismissal of Maina."
In his submission, Jagaba went down memory lane to remind the House about how "Maina was appointed as Chairman Presidential Task Force  in 2010 to check the complaint in the country's pension system by President Goodkuck Jonathan.''
He prayed the House to set up an ad hoc committee to investigate the matter, saying: "Maina came back from self-exile and was posted to his former ministry (Interior) and given double promotion from Assistant Director to Acting Director".
An ad-hoc committee is expected to submit its report in four weeks.