By Egufe Yafugborhi
Peoples Democratic Party, PDP, leaders in Ward 5 of Burutu Local Government Area have been enjoined to shun chaos and hope on Governor Ifeanyi Okowa to settle their bitter differences of choice of councilorship candidate in the coming council elections in Delta State.
National Coordinator, Pan-Niger Delta People's Congress (PNDPC), Chief Mike Loyibo, made the appeal in Warri where worried traditional ruler of Tuomo, HRH Emokpo Opukuma, Majority Leader of defunct Bendel State House of Assembly, Prince Okpanbeni Johnny and other community leaders raised the alarm over looming violence in Burutu as a result of the Ward 5 PDP councilorship debacle.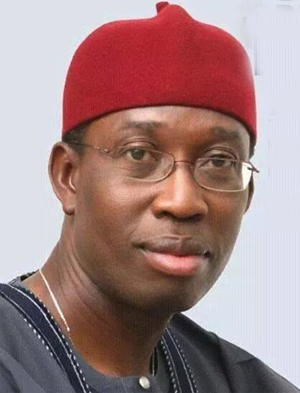 The  community leaders and party faithful are pitted against a former minister,  who is said to have the governor's eye in imposing his choice candidate against the wish of the majority who picked candidate Emokpo in a primary witnessed by a returning officer accredited by the state PDP.
According to the elders, "This whole thing started three years ago, during the last council polls when Orubebe told then Governor Emmanuel Uduaghan that it was his community's (Ogbougbagbene) turn to produce Burutu Ward 5 councilor. After this boy (Emokpo) won the primary, we had to prevail on him to wait for the next turn, just to avert trouble.
"Everybody knows it is  the turn of Tuomo community to produce the Ward 5councilor, but on Godsday Orubebe's insistence, the state PDP supervised a primary where Emokpo had 297 votes as against Orubebe's aspirant's 11. We learnt the Governor  suspended the primary after Orubebe raised unwarranted issues. This is unacceptable. Nobody should think they can subvert the will of the people"