BY ROTIMI AGBANA
Grafton Records artiste, Hart Ishmael, aka 'Idahams', is a fast-rising highlife/pop artiste ready to go all out to crush anyone who stands in his way to stardom.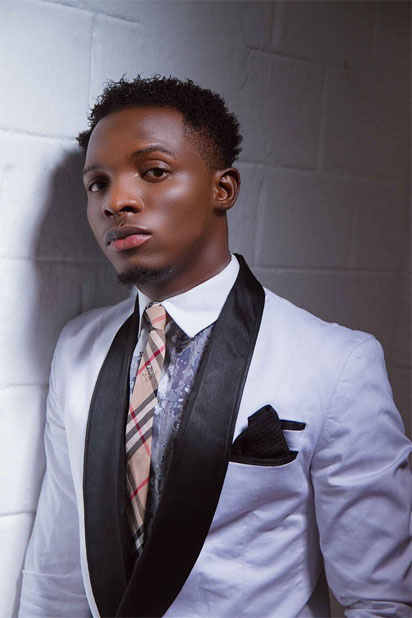 In this exclusive interview   with Star Tracker, the Port Harcourt bred singer who recently took swipes at BBNaija evictee, Gifty Powers, on social media, over her beef with his label mate, Mr. 2Kay, speaks on his music career, beef with Gifty, and more.
Who is Idahams?
I'm a highlife/pop singer, producer, songwriter and entertainer. I started my music career at the age of ten in the Anglican Church, Rivers State, where I played the keyboard, trumpet, bass guitar and other instruments. On the mainstream, I have produced lots of artistes in Port Harcourt and Lagos, including Solidstar,  Duncan Mighty,  and Kelly Hansome.
How did you come about the name 'Idahams' and what does it mean?
My real name is Hart Idawarifagha lshmael, my parents call me 'Ida', but my elder brother added 'Hams', just   to spice it up, it now became 'Idahams'; after which everybody started calling me 'Idahams'. It sounds cool and I love it.
What inspired you to venture into music?
As a kid, I had passion and love for music, in fact I ate music. My dad inspired me into music because he used to sing and loved highlife music and I grew up listening to him.
What was growing up like for you?
Growing up was going through everything I went through in life. I don't think I will be who I am if I didn't go through what I did while I was growing up. All the stress, hunger, poverty and everything I went through have shaped me into who I am today.
How did you get signed on to Grafton Records?
It was by God's grace and it's a long story but I'll cut it short. I was introduced to the CEO of Grafton Entertainment, Mr. Tonye Ibiama, by my uncle. After he listened to my demo, he had to offer me a deal immediately.
How does it feel to be signed on to the same record label as Mr. 2Kay?
For me, it's a dream come through because I have always admired the label from afar and it's so beautiful when you're on the same platform with your brother. I and 2kay are from the same place, Bonny Island in Rivers State, that really connected us to a better understanding and he's a very nice person, we've been doing a lot together.
What was it like producing for Solidstar, Duncan Mighty and Kelly Hansome?
Working with them was a bit challenging but I think there's no effort in doing what you know how to do best; working with them means a lot to me.
What inspired your second single titled  Toast?
I would say I inspired the song because I was talking about myself on the hustle. After the rain comes the sun because there's always a celebration time after your hustle; it's a victory song for everybody to identify with.
How would you describe your kind of music?
I do any good music but I'm a highlife/pop singer?
If you weren't a musician, what would you have been?
I would have become an actor because those days in school I was acting on different platforms.
So far, how has the Nigerian music industry treated you?
Though it has not been rosy but it's cool because I'm making headway.
What new things are you bringing on board the Nigerian music scene that would distinguish you from what we've already seen?
I'm the best in my style of music; better than what anyone has done in the industry. It's just time and I'm really working hard at staying the best.
What's your take on celebrities using the social media as a battle field?
I'm  neither against it nor  am I supporting it but maturity should always reflect in our activities and actions on social media.
Are you against the 'babymama' trend among entertainers?
I'm indifferent about the  babymama issue; but why would someone have a babymama when you know you can do the proper things and get married? Having a baby mama is an expensive thing because you spend even more than when you are married, but I'm  against abortion.
Who is your mentor and why?
My pastor and my boss are my role models, because they are the only ones who can tell me the truth. I  look up to other people in the industry as well.
Is it true that musicians sleep with video vixens after a video shoot?
I don't know about that but anything can happen, maybe when they are lovestruck, it could happen though.
Entertainers now contest political seats; do you think it is healthy for national development?
Yeah, it's very healthy; I know a lot of people see musicians/entertainers as irresponsible people, which must stop. Some of us are graduates and degree holders.
If an entertainer feels he's qualified and will do well for a national position, then let him/her seek for the people's mandate. He/she will sure be voted for, so don't be surprised if you see my posters flying around anytime, 'Idahams for house of representatives'.
As a songwriter, do you think the use of profane words/lyrics is good for the growth of the industry?
Music is a way of life that people need to understand; if one must use profane words then you must censor it or it might not be played on radio or television. Don't forget there are songs that are meant for the club and there are many club songs I have heard that have profane lyrics.
Do you think you have the creative ability to displace the likes of Wizkid, Tekno, 2face, Davido and others?
I know I'm the best; just watch out for me, there's always a time for everyone to shine and my time is now.