…Says in 2017, 47 per cent capital budget performance will be achieved
…Govt must sustain ban on 41 Items —CBN
…We lack manpower to meet 2018 revenue collection target —Customs
By Emman Ovuakporie
ABUJA—THE Federal Government, yesterday, raised the alarm that remittances of independent revenue by generating agencies have dropped significantly, urging the National Assembly to prevail on the lawmakers to make adequate remittances.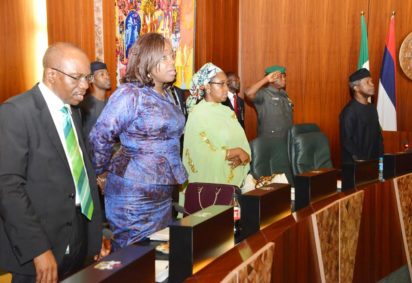 Making a presentation at an interactive session with joint committees of the House of Representatives on Finance, Appropriation, Loans and Debts, as well as Legislative Budget and Planning in Abuja on the 2018 – 2020 Medium Term Expenditure Framework, MTEF, and Fiscal Strategy Papers, FSP, the Minister of State for Budget and National Planing, Zainab Ahmed, stated that the internally generated revenue of the country has dropped.
She also explained that the Federal Government has achieved capital budget performance of 47 per cent in 2017.
While disclosing the determination of government to hit 50 per cent before the end of the year, following the availability of funds to deploy, Ahmed urged members of the National Assembly to help prevail on independent revenue generating agencies to make adequate remittances.
She said:   "Independent revenue has continued to lag behind with low level of remittances.  The GDP growth rate planned for 2017 was 1.7 per cent and at the end of 1st quarter, we have achieved 1.4 per cent, giving a positive indication that we will attain the 1.7 per cent target and possibly surpass it.
"Capital allocation for 2017 was planned at N2.2 trillion and performance today is at 47 percent implementation. We expect it to increase to at least 50 per cent before the end of the year.
"We have been able to meet our debt service obligation and pay salaries as at when due, spending on capital continues to be prioritised, especially in areas of ongoing critical projects.''
Speaking on the concern raised by Chairman, House Committee on Finance, Babangida Ibrahim (APC, Katsina), following submission by the Customs Service that import restriction on 41 items hampers its revenue generating ability, representative of  governor of Central Bank of Nigeria, CBN, Mr. Bayo Adelabu, said the import restriction has helped to stimulate investments for local production of the banned items.
"The restriction has helped local investors to put money into local production of building materials, go to places like Shagamu and Ajaokuta where granite production companies have sprung up.
"There has been drastic reduction of building material importation in the last two years, leading to increased local production of these 41 banned items," Adelabu said.
The Nigerian Customs Service, while stating its readiness to meet and surpass revenue collection target for 2017 and possibly 2018, however, decried the lack of manpower  as a factor militating against its projection.
Addressing the concern of legislators regarding revenue collection that meets projected income in the 2018 budget, DCG, I.A Umar, who represented the Comptroller-General of Customs, told the gathering that the Customs Service lacked enough manpower to adequately meet its revenue collection obligation.
"The service suffers shortage of officers and men, especially in the junior and middle cadre,  and will need to carry out recruitment of officers in 2018," he said.
He also said only two commodities, cigarettes and alcoholic beverages, were under excise control, and appealed for the increase of such excisable items.
The CG revealed that among other hindrances, non-functional scanners  at the nation's airports had militated against the execution of its duties.
"The service is constrained in its revenue collection drive as the scanners at various airports are not functioning, adversely contributing to the inability of Customs to collect revenue of certain items,'' he said.