By Udeme Akpan
There are indications that local content would be enhanced in Nigeria's oil and gas industry as ExxonMobil and the Nigerian Content Development and Monitoring Board (NCDMB) have provided $975 million and N61.18 billion respectively to support indigenous operators.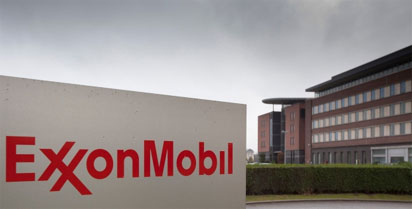 The funds are expected to enable indigenous companies that face many challenges; including limited funding finance different projects and programmes.
The Chairman, ExxonMobil, Mr Paul McGrath disclosed this at the just concluded 7th Nigerian Content conference organised by the Nigerian Content Development and Monitoring Board (NCDMB) in Uyo, Akwa Ibom State.
''Am very passionate about local content development in Nigeria, stand here before you today, is an example of local content. Local content and development of local content is so important to me and also ExxonMobil is concern in deepen Nigeria content in our industry.
''ExxonMobil gives first consideration to local produced companies in Nigeria. We have been at the forefront of local content development in Nigeria. Nigeria local content is a moral obligation and is good for business because in Nigeria we have highly and semi-skilled workforce which we give total support to at all categories.
''When we talk about practical Nigeria content and implementation of local content,  ExxonMobil has been at the vanguard."
McGrath said that the company was one of the country's highest producers of crude oil, accounting for almost 600,000 barrels per day of crude, condensate and natural gas liquids, which joint venture operation is over 90 offshore platforms from its Qua Iboe terminal operations area in Akwa Ibom State, comprising about 300 producing wells.
He said that ExxonMobil which had been in Nigeria for over 40 years with track records operates a world class facility in the country and also looks forward to boost its crude oil production.
The company's boss said that the company was committed to growing its production in Nigeria safely and with much integrity.
McGrath also said the company had made tremendous impact on nation's economy in the past 54 years of operation and would continue to invest for many more years to come.
He said that the company had invested massively on human development, and human development which was very significant in bringing about competition for national growth.
According to McGrath, the ExxonMobil has invested massively on host community and other communities outside our operations.
He added that ExxonMobil had also invested on community development in area of education and infrastructural development, while ensuring sustainability on the long-time benefit.
''ExxonMobil has helped to facilitate assess to funding to numbers of local companies in Nigeria, there are number of Nigeria banks that work with us.
''Over 113 million dollars has been assessing so far out of 975 million dollars available, under the ExxonMobil Nigeria Contractor Finance Scheme (EMNCFS) that was initiative in partnership with some Nigerian banks. Also, that offers competitive financing options to local company's business partners in Nigeria.
''The EMNCFS is targeted at Nigerian vendors seeking access to better funding options to fulfil ExxonMobil awarded contracts and procurement orders. Loan processing times will also be significantly reduced due to upfront definition of eligibility criteria by the banks because if the funding was not available to Nigerian contractor they will not be in business.''
He said that over 700 graduates had benefited from the company's skilled training, which majority of them has been employed by various oil and gas companies in Nigeria.
McGrath also said that the company had a world class technical training centre in Akwa Ibom which was established in 1995, adding that it also confirmed to international best practice standard.
The managing director added that the company has also developed potentials in world class engineering organization, adding that it has partner with local engineering companies in Nigeria like Delta Afrik to developing and nurture quality engineering work.
He said that the ExxonMobil also geared towards ensuring the developing sustaining plans with local companies in Nigeria, quality engineering in Nigeria had increased by 90 per cent in the last four years.
Also, the NCDMB stated that a total sum of $200m (N61.18bn at the official exchange rate of N305.9 to a dollar) has been released to the Bank of Industry as intervention fund for indigenous oil and gas service providers.
It stated that third party outfits were being engaged to monitor compliance with respect to local content implementation in the upstream, midstream and downstream arms of the oil and gas industry.
The Executive Secretary, NCDMB, Simbi Wabote, said the agency would ensure that about eight indigenous oil and gas service providers access the fund every six months to boost job creation in the sector.
Wabote observed that for many years, the oil and gas sector was not known to create many jobs.
He, however, explained that with the intervention fund, service providers in the sector would have the capacity to employ more hands, a development that would increase the workforce in the sector by creating additional jobs.
"With respect to the Nigerian Content Intervention Fund, in the last one year, we have launched the $200m intervention fund for our Nigerian oil and gas service providers who are contributors to the Nigerian Content Development Fund. It may interest you to know that we have released the $200m intervention fund to the Bank of Industry for adequate disbursement.
"The intervention fund has all-in single digit interest rate of eight per cent for loans extended to Nigerian oil and gas service providers and all-in single digit interest rate of five per cent for loans extended to community contractors. We will also ensure that the NCIF becomes fully operational and provide statistics of service providers and community contractors who have benefited.
"We will put in place third-party outfits to enhance compliance monitoring in the upstream, midstream and downstream sectors of the industry, as well as sharpen intervention monitoring based on complaints and whistle-blower alerts.''
He further stated that the NCDMB had expanded its operations to cover the midstream and downstream sector of the oil industry, adding that the agency was part of the NLNG business activities and was engaging Dangote Oil Refinery on local content matters.
"We visited Dangote refineries where we agreed on steps to involve more Nigerian companies with capacities for patronage by Dangote Oil Refinery in the development of the project to meet cost and schedule timelines.
"Similarly, a compendium of ancillary businesses required to sustain operation of the refinery is under development to support the operational phase of the huge 650,000 barrels/day refinery."