By Davies Iheamnachor
HOODLUMS, weekend, attacked the convoy of High Chief O. B. Lulu-Briggs, regent of Abonnema, during a meeting at Abonnema, Akuku-Toru Local Government Area of Rivers State.
Lulu-Briggs had visited Abonnema for a peace and reconciliation meeting among chiefs, opinion leaders and elders of the area in respect of the crisis rocking the chairmanship position of Abonnema Council of Chiefs.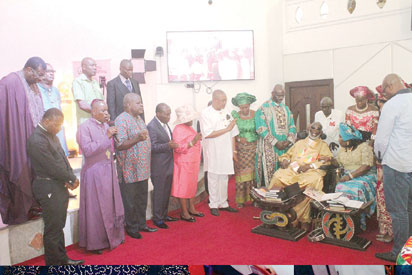 The Chairman of the Council, Chief Disrael Gbobo Bob-Manuel, was last week, allegedly suspended from the position based on allegation of witchcraft levelled against him.
Lulu-Briggs, the nonagenarian father of Dumu Lulu, a Rivers State-based politician and businessman, was appointed in acting capacity to man the position till the controversies surrounding the position are resolved.
Based on the development, Lulu-Briggs had visited Abonnema to broker peace, but was held by hundreds of youths, who attacked his convoy and damaged several cars.
The youths, numbering over 200, who gathered at the community square, took over the scene immediately the convoy of the High Chief arrived and started throwing stones and other weapons at the convoy.
Eyewitness
Chief Kingsley Young-Jack, who witnessed the incident, narrated: "Some youths we do not know attempted to kill High Chief Lulu-Briggs, when he came to Abonnema for a peace and reconciliation meeting.
"They destroyed cars in his convoy, but he was saved because his car is bullet proof. They were shooting guns. We do not know what their annoyance is, but we know they were hired to carry out that act."
However, Chief Lulu-Briggs has sued for peace in Abonnema Kingdom, stating that violence and killings will not resolve the issues on the position of the Chairman of Abonnema Council and infrastructure development in the area.
Lulu-Briggs, who spoke through Chief Ibim Iyibo Young-Briggs, noted that there was need for reconciliation of all the factions in the face-off, expressing regrets over poor infrastructure development in the area.