By Nwafor Sunday
The National Co-ordinator APGA Media Warriors Forum, Evang Chinedu Obigwe on Wednesday described the incumbent governor of Anambra state, Chief Willie Mmaduaburochukwu Obiano as a political messiah that has come to take Anambra state to the Promised Land, as he (Obigwe) assured Anambrarians that their support for Obiano's re-election would not be in vain.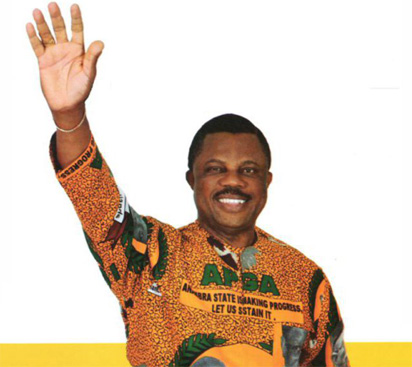 His description came while urging the former governor of the state, Mr. Peter Obi to swallow his pride and congratulate the history-breaker (Obiano) who emerged winner in the just concluded November 18th gubernatorial election with 21/21 win in all the local governments in the state.
"My advice to Mr. Peter Obi is to swallow his bloated ego and do the needful of congratulating Governor Willie Obiano on his merited second term re-election by Anambra electorates", he said.
In a press release issued to newsmen on Wednesday morning Obigwe opined that "Mr. Peter Obi's refusal to congratulate Governor Obiano portrays him as one who does not mean well for the people of Anambra State.
"As far as the November 18th governorship election is concerned Mr. Peter Obi committed a political blunder by thinking that Anambra people will fall prey of his blackmail, political antics and vote against Governor Obiano.
"The people of the State have proved to the whole world that Governor Obiano is their political messiah that is on a divine mission of leading the people of the State to the Promised Land.
"I love the way Anambra electorates used their voting power to teach political godfathers a bitter lesson they will never forget throughout their political lifetime.
"Electorates action will definitely serve as a deterrent to other politicians that will like to play god in the State politics.
"Mr. Peter Obi should see Governor Obiano's re-election as a vote for his 2013 first choice and see Oseloka Obaze's lost as a rejection of his 2nd choice that was made in error without putting into consideration the interest of Anambra people.
"Governor Obiano by his nature is not a vindictive person; he will carry everybody along in running the affairs of the State in the next four years.
"The second term mandate given to Obiano by Anambra electorates is a renewal of his social contract with the people of the State.
"His priority in this second term is the continuous delivery of dividends of good governance in the State.
"I assure Ndi Anambra electorates that Governor Obiano will do everything possible to make his administration an open democracy for  Ndi Anambra to participate and thus justify the confidence reposed in him
"I urge Anambrarians to keep supporting Obiano administration initiatives for the well being of the State", the release read.