By Chioma Gabriel, Vincent Ujumadu, Dennis Agbo & Chinedu Adonu
ENUGU—The family of  former Vice President of Nigeria, Dr Alex Ekwueme, yesterday allayed fears over his health condition even as the Federal Government sent a delegation to visit him in hospital.
There was  also an unconfirmed report that the Federal Government might have flown him abroad in an air ambulance last night.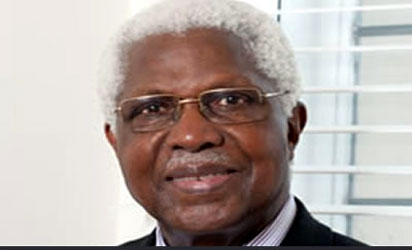 The statement issued by the family read: "Dr. Alex I. Ekwueme, GCON, the former Vice President Federal Republic of Nigeria, was on Sunday 29th October 2017 admitted into hospital for a chest infection.
"It will be recalled that the former Vice President had a quiet celebration of his 85th birthday on 21st October 2017 in the company of his family members and remained in high spirits up till his recent health challenges.
"His doctors confirm that he is stable, but he will remain under close medical attention in the mean time. The family would like to express its profound gratitude to all Nigerians who have shown concern over this development and requests their sustained support and prayers as he continues to make a full recovery."
Vanguard also gathered that the Minister of Health, Dr. Simon Adewole yesterday  sent  a delegation to a private hospital in Enugu where Ekwueme was being attended to.
The identities of members of  the delegation from the Minister were not immediately   ascertained but it was gathered that the inability of improvement in his condition elicited the move to fly him abroad.
When Vanguard visited the hospital yesterday, scores of visitors were moving in and out but none was allowed to go into the Intensive Care Unit, ICU, where he was being attended to.
The Chief Medical Director, CMD, of the Memfys Hospital, Dr  Sam Ohaegbunam, where he was said to be admitted was not on seat when Vanguard visited the hospital and refused to disclose the state of Ekwueme's health and even denied that he was in their hospital when contacted on phone.
"I don't know about his health. If you want to know about Ekwueme, you should go to his  family members because they are in a better position to comment on such issues", Ohaegbunam said.
A close   family source however confirmed  that   arrangements were on to fly him abroad  in an air ambulance to continue his treatment.
The source said Ekwueme was not responding very well to treatment in Enugu hence the idea to fly him abroad.
Vanguard also tried to speak with other family members, close associates and top Igbo leaders but could only elicit scanty information as many decided not to comment on the matter.
When called on phone, Dr Chukwuemeka Ezeife said somebody called him to inform him about the development and suspected he might have been taken abroad. He added that there is no need to panic over the development because "at his age, he could easily get exhausted but  that does not mean he is going to die. He will recover," Ezeife said optmistically.
Another family  source told Vanguard that the only truth about the report  published in the news media is that Dr Ekwueme is not feeling fine and dismissed the story about collapsing and being in coma as highly exaggerated.
"We don't know where that report came from. He did not collapse. He was not feeling well and that was what happened. He was never in coma as reported."
Chief Ben Ezeibe, an associate of the elder statesman also said Dr Ekwueme is not in coma. ''He is okay,  not in coma as speculated. He is still in hospital doing fairly well,'' he said.
The   octogenarian was said to have collapsed in Enugu  on Tuesday  and was admitted in a private hospital there.
Though there was no one to speak on the matter at his country home at Oko, some people seen in the community said they only read about it in the newspaper.
His first daughter and the deputy-governorship candidate of the Peoples Democratic Party, PDP, for the Anambra  November election, Mrs Chidi Onyemelukwe campaigned with the candidate of the party,   Mr. Oseloka Obaze and former Governor Peter Obi at Agulu yesterday and there was no mention of the Dr Ekwueme's said sickness.
Ekwueme was last seen in public in Anambra state during the flag off of the PDP governorship campaign in Onitsha last month.
It will be recalled that the former Veepee was said to have collapsed at home and was rushed to the  hospital when he was trying to get something from the table around 2am last Saturday, at his residence in Independence Layout Enugu.