By Chinonso Alozie, Owerri Imo state Governor, Rochas Okorocha, said Tuesday, that except for President Mohammadu Buhari, he can defeat any other person in a presidential race.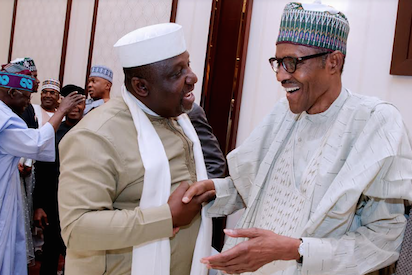 Okorocha spoke at the government House, Owerri, when the members of Democratic Youth Congress, DYC, for Buhari, led by a serving lawmaker in Nassarawa state, Kassim Mohammed- Kassim, paid him a visit.
He also said that the Southeast governors have decided to support President Buhari's second term ambition adding that, both the South south, South west and the entire Northern regions have cue in into the project.
Okorocha said: "I must say to all of you that I believe in the youths of the Federal Republic of Nigeria and I am happy to see you form an association called Democratic Youth Congress, DYC. "The country is passing through a crucial moment. There was a time speculations were in the mind of some people that the President might not make it back and it takes people of unusual faith at that time to say Buhari will continue in 2019.
"I am a believer of Buhari. I made it clear, years ago that if President Mohammadu is running for President, I will not run. "I am sure that my statement came as a shock to most Nigerians that I have subsumed my President ambition to someone and this is the first time I have taken such a step. "There is no better time to have a President if not Buhari.
I have seen Presidents but I have not seen the President and Vice President that have worked as brothers as Buhari and Osibanjo. "I have looked at the political situation and I have done the political calculations, and found out that the best thing that can happen to Nigeria is to allow Buhari completes his term. "I did not step down for Buhari because of popularity, religiosity, I step down for whom he is.
I want him to run and he will have my support. "I want to also appeal to those who have Presidential ambition to shelve this ambition. This because our nation is going through a challenging moment and it requires a man of his calibre. "I am very happy to announce that most of the governors of Nigeria, are in support of President Mohammadu Buhari.
Whether PDP, APC, APGA all the governors except one or two. "We are having a situation in Nigeria where all the parties will present one candidate. All the Southeast governors are in support of Buhari. In the entire South South same, also that of South west including all the Northern regions. The one or two persons will make up their minds in no distance time. "If not for Buhari that made me to step down my ambition who else, because minus President Buhari, I can defeat any of them in the Presidential race.
Again, I want people not to use the Anambra election to judge the support President Buhari. What happened that there was internal disagreement among the party leaders in that state." Earlier in his speech, Kassim, representing Akwanga South constituency at the Nasarawa state House of assembly, and National President of the group said: "Your Excellency, we have gathered here to plead with you, to appeal to you, to request and we have gathered here to cry that you belong to our fold.
The youth have realized that we have the power to select our leader. "Your Excellency, we unanimously agreed and resolved that President Mohammadu Buhari will remain there come 2019. He is there as a role model. You are a role model and a mentor. We want you to lead Nigerian youths to return President Buhari in 2019. "Your Excellency, we are begging and we are pleading that your excellency all of us will go on our knees for you to lead Nigerian governors to support Buhari in 2019."