Local government elections in Enugu State have come and gone but the ripples still linger.  Unfortunately, the gubernatorial candidate in the state under the umbrella of APC, Barrister Okey Ezea, has tales of woes over the concluded election which was adjudged violence-free.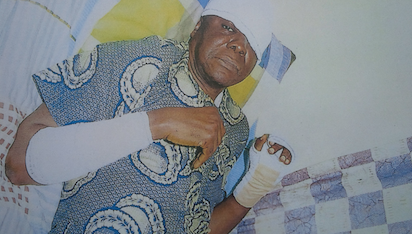 He was reportedly attacked and brutally assaulted by a thugs allegedly hired by his opponents in a day-light operation that took place in his hometown, Itchi in Ibagwa- South L.G.A of the state.  Still writhing in pains with wounds and stitches, he narrated his ugly experiences to Hannah Oyelere and Suliat Elemosho. Excerpts:
"I am the immediate past  APC gubernatorial candidate in Enugu State in the January 2015 elections. The state government called for local government election and gave us their words that it will be free and fair; that parties would be called to come and participate and voters would be allowed to vote freely to decide who becomes their counsellor and chairman, but it wasn't to be.
We also agreed that the local government materials would be taken from the state electoral commission's office in Enugu to the Police divisions in various local government areas for safe custody where every party will be held at arm's length instead of taking them to the local government headquarters .
But lo and behold, on Friday 3rd of November, few hours to the elections, reports came  in that the state electoral commission, ENSEC, has decided to take the materials to the local government headquarters when we knew that there was going to be no elections and some of us who are used to the local government elections in Enugu State were not allowed to vote where they write results. We went home, hopeless over the situation.
The following morning, of course our candidates started calling that they went to local government headquarters where the materials were supposed to be and that they were not allowed to go inside. Lest I forget, that same Friday, immediately I got information that the materials were going to be in the local government headquarters, I called the ENSEC Chairman, Dr. Mike Ajiogu SAN, and he said if they don't have enough space at the Police station, they could take them to the local headquarters for safe keeping, the next morning they would share everything.
In fact, he has started to tell me that they sent 15 cartons of ballot papers for the local council elections in Ibagwa  South and 15 cartons of ballot papers for the chairmanship elections; that in each carton, you have 50 booklets and that each booklet contains 100 leaves.
He gave me his words that if we go there the following morning and these things were not complete, we should just call him and he would cancel elections in the area and bring fresh documents.  I also called the Commissioner of Police and he said he had asked the DPO to go to the local government to provide maximum security so that the following morning, the parties would be there to share the materials. We believed all.
"Then, we went home. When we got there in the morning, when my people were not allowed in, all the materials were gone. I accosted the honourable member representing the area in the House of Representatives, Hon. Patrick Asadu and he seemed to be in charge of the activities at the headquarters. Rather, he said we should go to our wards that they were going to distribute them there.
"I left peacefully and went to my village from where I went to the distribution center.  When I got there, there was  an argument with the woman that was acting as ENSEC Supervisor.  Our people said she had only five bags for five polling units while there are seven polling units in my ward. So, we were asking her where she had taken the other two to but she could not explain satisfactorily. In fact, she was confused and stated that she does not have the result sheets.  We questioned how she could come for election without result sheets but she could not give a credible answer.  We then concluded that they must have gone to write results secretly and we expressed that fear to the DPO.
"I then went away and about a kilometer from that distribution center, I met about five policemen from Ibagwa Police station and about five or six Civil Defence officers, they were interrogating one boy they caught on the road there.
Immediately I saw the face of the guy, it was familiar and I stopped to know what was going on. That was when I saw a convoy of about 10 Hilux vans coming with full headlamps and siren.  Initially, I thought they were policemen or soldiers but when I saw the guns they were raising up, most of them were pump action rifles, I knew it was not Nigeria security force.
They were all in black on black so, when they got to where we were, a serving commissioner in the state was the first person to jump out of the vehicle carrying his own automatic pump action riffle. He came straight to me saying;  'Ideke,  you have been giving us trouble with this your APC. Now that we have caught you,  I am sure you are going to call Buhari to come and save you; boys deal with him, put him in my car.'
At this stage, hell was let loose as more than 50 armed bandits  clad in all black attire with berets and dark glasses, wielding weapons in one hand and substances suspected to be Indian hemp in the other hand, descended on me. Some of them had AK47, some automatic pump action and they dragged me to their Hilux vehicles and sped off.
They kept one armed thug on my right, and one on my left.  The one on my left was busy hitting me with the butt of his gun and when he felt the gun was not forceful enough, he started using his right elbow to hit me. So, when we got there, they dragged me before the House of Representatives member while they continued hitting me.  They also used plastic chairs to hit me on the head.