By Dapo Akinrefon
The Aare Ona Kakanfo desginate of Yoruba Land, Dr Gani Adams has described the death of former Vice President Dr Alex Ekwueme as a great loss to the nation.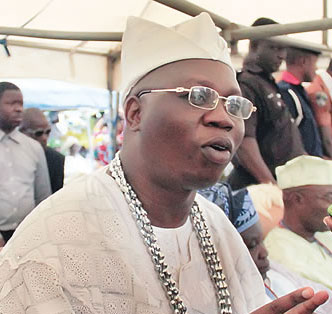 In a condolence message released by his Director of Media and Communications, Femi Adepoju, the Aare Ona Kakanfo designate said the wisdom of the late nationalist is needed at this time that the country is in dare need of political direction to continue to exist as a unified nation.
Adams said even though " we owe God the gratitude for giving the late Ekwueme long life , yet, it is unfortunate that he was called to the other side at this time that our nation is in dare need of political direction which the wisdom of the late Elder statesman  could  provide, to make her survive the challenge presently threatening her survival as a nation."
Praying God to give the nation, the immediate and political families of the late politician the fortitude to bear the irreparable loss of the politician, the Aare Ona Kakanfo said he believes  the sincerity of the nationalist for a great Nigeria while alive would make his spirit to continue to give the nation the necessary direction to continue to make it survive as a nation where justice and equality shall be the watchword.