By Rotimi OjomoyelaBy Rotimi Ojomoyela
An Ekiti  State  radio  host,  Abulganiyu Lawal, was, on Thursday, shot dead  during a  hunting expedition by unknown persons at Araromi-Oke in Ekiti East Local Government  Area.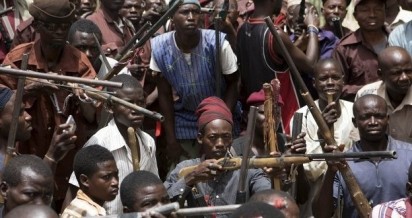 The 42-year  old, who was a member of Freelance and Independent Broadcasters Association of Nigeria (FIBAN), has since been buried  according to Islamic rites in his parents residence in Igbemo-Ekiti.
It was gathered that the ugly incident occurred  in  Apepe  Farm Settlement in Araromi-Oke.A source close to the family of the deceased  said  Lawal, after  a meeting with his hunter-friends, decided to go into the forest to hunt and promised to return before 10pm.
Relatives became worried when he didn't  return  that  night  while his phone  also  failed to connect.
His body was later discovered by villagers going to the farm on Friday morning.The Public Relations Officer of Ekiti State Police Command, Alberto Adeyemi, confirmed the death  in  a text message.