Dutch prosecutors were, Thursday, investigating how a Bosnian Croat war criminal, Slobodan Praljak, managed to commit suicide in front of shocked UN judges right in court.
Staff at the imposing buildings of the International Criminal Tribunal for the former Yugoslavia (ICTY) in The Hague had been expecting to spend the next few weeks quietly winding down the court which closes on December 31, after the judges delivered their final ruling on Wednesday.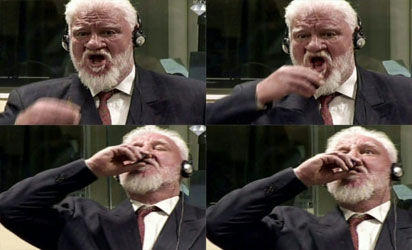 But the courtroom is now an active crime scene after the dramatic events when former Bosnian Croat military leader Praljak tipped the contents of a small brown bottle into his mouth and died shortly afterwards in hospital.
An autopsy will be carried out shortly as a matter of the "highest priority," Frans Zonneveld, spokesman for the Dutch prosecution in The Hague, told AFP.
He revealed that tests had found that the bottle contained a "chemical product which can cause death".
The unprecedented gesture came as Praljak, 72, angrily denied being a criminal, after judges rejected his appeal and upheld his 20-year jail term for atrocities committed in a breakaway Bosnian Croat statelet during the 1990s wars.
Dutch prosecutors said in a statement late Wednesday that the investigation into his death "for the time being the inquiry will focus on assisted suicide and violation of the Medicines Act."
It remains a mystery exactly what Praljak drank and how he managed to evade tight security to smuggle the bottle into the tribunal.