By Prince Okafor & Taye Meshach
lagos—THE Department of Petroleum Resources, DPR has disassociated itself from the continued illegal occupation of roads by tanker drivers in Apapa and its environs, adding that their license does not permit them to obstruct the roads.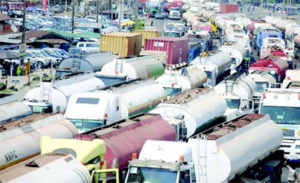 Mr. Mordecai Ladan, DPR Director disclosed at the Department's Annual General Meeting in Lagos yesterday that   the vehicular gridlock in the Apapa depots should be a great concern to all stakeholders and all hands should be on the deck to tackle the challenges.
He indicated that besides inadequate infrastructure, the situation was greatly worsened as a result of depot operators to respect laid-down rules and regulations.
According to him, "While we recognize that bad roads and inadequate infrastructure have contributed to the gridlock in Apapa axis, the refusals of depot operators to abide by the laid- down rules have further complicated the problems.
"For example, all trucks now proceed directly to the depots to queue up for loading instead of staying at the holding bays to be invited when it is their turn to load.
"Let me reiterate that 5this practice, encourage by depot operators, is contrary to the terms of their licenses. I therefore wish to remind all depot operators that part of the conditions of their licenses is that every depot should operate a holding bay, where trucks are required to park and wait until it is their turn to load at the depots.
"We should ensure to strictly abide by the rules b, for general safety and decongestion of the depot areas. We are partnering with the Lagos State Government to tackle the challenges."
Ladan also accused operators of not adhering to standards and procedures approved by the government.
He said: "These challenges are occasioned by failure of operators to adhere to standard operating procedures, the practice of cutting corners and profiteering. These unwholesome acts on the part of licensed operators, coupled with the actions of illegal operators in our midst must be addressed.
"The fact that safety needs to be deeply entrenched as a key driver in our operating environment is further underpinned by the recorded upsurge in petroleum products handling facilities such as Compressed Natural Gas, CNG, downloading stations, Liquefied Petroleum Gas, LPG refilling plants and skid mounted LPG ad-on in retail outlets.
"The year is significant especially considering the unprecedented stability we have witnessed in the products markets. Incidents of queues have disappeared from our petrol stations and it is evident that the partial deregulation policy of government is working.
"I am therefore seizing this opportunity to congratulate marketers, especially for the significant role they played in bringing stability to the products' markets. Their cooperation with us has ensured that the stations remain wet even as we approach the yuletide. I am confident that this would also be sustained in the coming years.
"While the department assiduously strives to achieve its target of attaining zero Lost Time Incidences (LTIs), we nonetheless recorded fires resulting in fatalities in 2017.