The Muslim Ulamah on Friday advised President Muhammadu Buhari to always ensure proper dispensation of justice and fairness at all times to sustain the relative peace being enjoyed across the country.
A spokesman of the group, Dr Khalid Aliyu, stated this after a closed door meeting with Buhari in the Presidential Villa, Abuja.
Aliyu, who is the Secretary General of the Jama'atul Nasril Islam (JNI), said all "we want the government to exhibit is the fear of God in all it does and ensure justice for all".
He said the group also sued for the sustenance of the good works of the administration.
"These are the demands to government; one, to fear God almighty, two, the establishment of justice regardless of section, tribe or religion. All citizens of this country need to be treated equally and in fairness.
"This is very important," he stressed.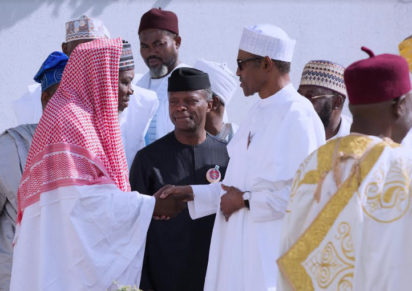 Aliyu, who lauded the president for convening the meeting, pleaded with the President to convene more of such meetings to give room for useful counsel to government.
He said: "We should be having this type of meeting regularly in order to counsel the President and also for us to have an opportunity to tell him from the non-governmental quarters.
"Some of the feelings of the people so that he can compare with what he gets from the government quarters to see whether he is being given the correct information or not, so that the common man will really feel the change that this government stands for.''
The JNI Secretary General revealed that the group also prayed with the president and thanked God for his speedy recovery.
"We thank Allah for the safe return of President Buhari from his medical vacation and the smooth conduct of affairs as he continues to lead the country.'' (NAN)