…Says 20,000 killed by insurgents, two million displaced
…'Anticipated progress not made on repatriation of looted funds'
By Johnbosco Agbakwuru
Vice President Yemi Osinbajo has said that for terrorist groups and criminal elements to be defeated,   their  financiers  must be fished out and dealt with.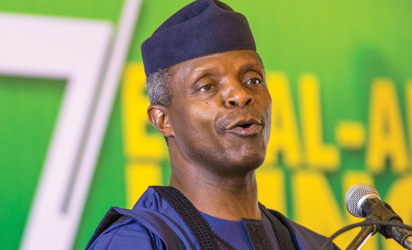 Osinbajo, who spoke yesterday  in Abuja, during   the opening ceremony of the  Inter-Governmental Action Group against Money Laundering in West Africa (GIABA) 18th  Ministerial Committee meeting, lamented that about 20,000 lives had been lost to Boko Haram.
The Vice President also said Nigeria had  been going through frustration in an attempt to repatriate looted funds stashed in foreign countries, stressing that  efforts  of government had  not yielded the desired  results.
He said,   "We have for long enough affirmed our commitment as a sub-region to fighting Money Laundering and Terrorist Financing. We must now back this intent with forceful action and visible results.
"It is clear that without dealing a lethal blow to those powerful criminal networks that funnel money to terrorist groups, we cannot reasonably hope to completely obliterate     the threat of terrorism and other organized criminal activity in our sub-region.
"In the last decade, more than 20,000 lives have been lost to terrorism propagated by Boko Haram, and more than 2 million persons displaced. One important question that arises is this: How did a once-obscure sect, domiciled primarily in a single city in Northern Nigeria, evolve to become, at one point, a menace, not only to the country but to the entire Lake Chad Basin?
I'm certain that a significant part of the answer to those questions will be found in the complicated multinational networks of financing that sustained the group and nurtured its hateful vision.
"We know that the lines between terrorist groups, corrupt politicians, traffickers (whether of drugs, guns or people); fraudsters; smugglers; kidnappers; illegal oil bunkerers, etc, have always been blurry; that these groups have always found complementary need for one another's tactics and strategies.
Osinbajo expressed the frustration many West African nations had experienced in their efforts to repatriate looted funds starched in foreign banks.
He said,   "Despite numerous mutual legal assistance treaties and Conventions, it is obvious that we are not making the sort of progress we expect to see.
"It is unconscionable, in our view, to have stolen funds in a bank within the jurisdiction of an FATF country and to have to go through a rigorous obstacle course to retrieve the funds and even when such funds are to be returned after several years, humiliating conditions are attached.
"The other issue is the risk of the dangers posed by anonymous corporate ownership. If nothing else, the Panama Papers and now the Paradise papers clearly illustrate the global scale and spread of this problem. So this is a global challenge and nothing less than a truly global approach will be needed to tackle it.
"We cannot have anonymous ownership of companies, trusts and other arrangements designed to cover ownership of assets, and at the same time expect optimal results from anti-money laundering measures."