Italy's former prime minister Silvio Berlusconi won an appeal against paying his ex-wife alimony on Thursday, as a court told Veronica Lario to repay cheques totalling some 60 million euros ($70 million).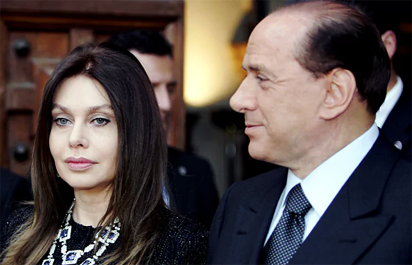 The Milan court decided in favour of the 81-year-old billionaire, who had insisted Lario was wealthy enough to support herself with her portfolio of 16 million euros, family jewels and publishing house, Italian media reported.
The four-time premier had been paying the mother of three of his children 1.4 million euros in alimony as part of a divorce settlement. The payments date back to 2014.
The couple's relationship soured as multiple reports emerged of the media magnate's alleged penchant for partying with young women and hosting erotic "bunga bunga" parties at his Milan villa.
Lario filed for divorce in May 2009, after revelations that Berlusconi had attended the 18th birthday celebrations of a Neapolitan model named Noemi, describing him as "a dragon to whom young virgins offer themselves".
She also questioned his mental health and said she could not stay with a man "who frequents minors".
A list outlining the expenses Lario needed to meet to continue living in the manner to which she had been accustomed included "cruises for at least four-five weeks a year in the Caribbean", according to Italian media reports.
During the marriage, she had "at least a dozen members of house staff" on hand at her Villa Belvedere di Macherio home, as well as personal trainers and sports instructors to supervise her workouts in the family gym.
There was also the maintenance of the villa's "park, statues, ornamental basins, fountains, covered swimming pools, gyms" to think of, as well as Lario's "beauticians, hairdressers" and "five-week holiday in Porto Rotondo" on Sardinia's Emerald Coast, her lawyers told the court.
The Milanese judges — two women and a man — were unmoved, despite the emotional trials of a woman whose husband was often on the front pages over sleaze scandals.
In 2011, Berlusconi was also accused of paying 17-year-old exotic dancer Karima El-Mahroug — known as Ruby the Heart Stealer — for sex.
After being convicted in 2013, he was cleared of all charges in 2015.
But Berlusconi, who has hopes of being a kingmaker in Italy's general election in May, remains on trial accused of witness tampering and pay-offs over the alleged orgies.
He is accused of paying more than 10 million euros in cash, gifts, cars and housing from 2011 to 2015 to guests at his residence to testify in his favour in the so-called Ruby affair.
AFP