By Muoka Lazarus
IT is no longer in doubt that many people who are disappointed and disillusion-ed during the year lookup to as their last hope the special annual programme entitled Hope for the needy.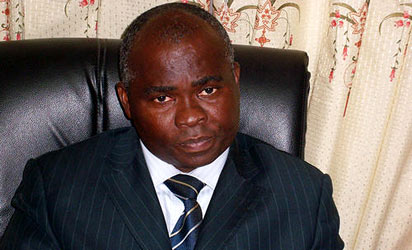 The reason for placing their hope on the programme is because the Almighty God has graciously and consistently shown His presence in the programme through diverse signs and wonders which He wrought in the lives of people during the programme. It is a known fact that all who attend-ed the programme in the past have one testimony or another to share with friends.
Consequently, those who have not benefited from the programme as a result of their inability to attend previous ones will not wait to be told about the programme. As they heard others rejoicing they keep asking God when their own time of experiencing His goodness will come. But thank God the said date is this weekend at the expansive revival ground of The Lord's Chosen Revival Ministries located along Oshodi-Apapa Expressway by Ijesha Bus Stop.
The Almighty God will as usual make as many as will attend the programme to rejoice, for God will give a new hope to people.
Isaiah 35:5- 6 says: "Then the eyes of the blind shall be opened, and the ears of the deaf shall be unstopped. Then shall the lame man leap as an hart, and the tongue of the dumb sing: for in the wilderness shall waters break out, and streams in the desert."
Nobody will attend the crusade and go home the same without having his need met. The mark of hopelessness that has dominated the mind of the people all the while shall end after the crusade. People's hope shall be rekindled in the area of their business, health, education, etc and the entire nation shall experience joy and peace.
So if there is any area in your life you have presented to God before and have not received an answer, and as a result you have lost hope even in the ability of God to do it, I want to assure you that, you shall have hope of victory over it.
If there is prayer you have made concerning your loved ones and have not seen the physical manifestation of the answer, I want to assure you that same God who brought this programme, who have been blessing others in the past through this programme shall give you hope for your need in Jesus name. It does not matter how bad your situation is or how powerful the enemy that have hindered you from receiving the blessing of God may be, the fact is that this time He has assured us of hope for our need and He will never disappoint us.
You may have been in pain for one reason or the other and thinking that God has abandoned you because your situation looks hopeless, a new hope is coming your way. It may be the pain of stroke, it may be the pain of poverty, barrenness, lack of promotion, it may also be sicknesses such as HIV, diabetes, cancer, Arthritis, etc, and you have been praying and fasting for solution but there has been no answer to your prayer.
I want to assure you that this time around, God who brought you into this world and who has seen your predicament is determined to let you have the touch of His blessing now. That same God, who died on the cross for you has not forgotten you, He is the hope of the hopeless, He will give you hope of peace come this crusade in Jesus name. So, bring that problem that has defied solution to Him at this crusade and He will give you the desired blessing.
Beloved, only God has the power to rekindle hope. Babalawo solut-ion cannot give you that lasting hope you need, that rich man has not gotten all the blessings that will change your ugly life, your parents have not gotten all the blessings that will give you a last-ing hope. Your boss in the office lacks all it takes to give you lasting hope, but only God has all the power to revive your hope because He is the embodiment of hope.
John 10:10b says, "I am come that they might have life, and that they might have it more abundantly"
When God saw mankind's hope-lessness and how they were wallowing in darkness suffering from one problem to another, He sent His Son Jesus Christ to re-deem them that they might have life and not just a mere living, but abundance of it including all those things which are needful to make life happy.
The coming of our Lord Jesus Christ opened a thorough heavenly portal for humanity, and thus we have access to all heavenly blessings which include mercy, grace, salvation, Holy Ghost baptism, good health, freedom, peace, promotion, joy unspeaka-ble, dominion, etc and above all a privilege for a glorious immortality. Anybody who is filled with the aforementioned heavenly treasures will have abundance of hope.
Therefore, having known the measure of hope God is bringing to us in this programme, what then shall be your preparation?
Amos 4:12 says: "Therefore thus will I do unto thee, O Israel: and because I will do this unto thee, prepare to meet thy God, O Israel"
As we expect God to revive our hope, we should remember that God is not a man. While men have sinful nature, God has a holy na-ture. He is pure and holy and thus will not revive hope of an unholy person. If you come to the pro-gramme and refuse to repent from your sin, you will go empty handed and trouble will not depart from you. Sinners are not recognised in the congregation of the righteous and shall not benefit anything from the Lord.
Psalm 1:5 says: "Therefore the ungodly shall not stand in the judgment, nor sinners in the congregation of the righteous".
If we need God to revive our hope, we must be holy and conformed to His nature. So, for us to be among those He is coming to re-store their hope, we must prepare to be holy. So, if you desire to be blessed on that day, you must endeavour to clean yourself from all contamination both of the heart and body.
If your case is disappointment and lack of promotion, and you want to experience favour, or you are barren, and need to rekindle hope of fruitfulness, you must prepare to be holy.
He has given us promises to en-courage us to prepare, we must therefore prepare to meet Him. The will of God in the Old as well as the New Testament is communi-cated plainly and openly to the people. It says, 'Ye shall be holy, for I am holy'. There is no ambi-guity in God's requirement. The people of God must be separated from the world, for they are required to be holy, for God is wholly holy. I Thessalonian 4:7 says: "For God hath not called us unto uncleanness, but unto holi-ness."
When He called us to be His followers, it was not that we should live the lives of uncleanness, but of holiness. We should, therefore, fulfil the purposes by which we are called, for holiness is the sure foundation on which hopes are restored and eternal life given.
Beloved, God is prepared to give the needy and nation an enduring hope in this programme. Don't be left out, come and you shall be blessed. The Lord will come at the time you least expected, therefore, be ye ready so that you are not caught unawares. Our Lord will be happy for those who He shall find ready for the Kingdom, but will be very angry against those disobedient, unrepentant and wicked sinners that are not ready.