Former coach of Nigeria's senior men's basketball team, D'Tigers who led them to their first ever Afrobasket triumph in Tunisia in 2015, American Will Voigt  has been snapped by rivals, Angola.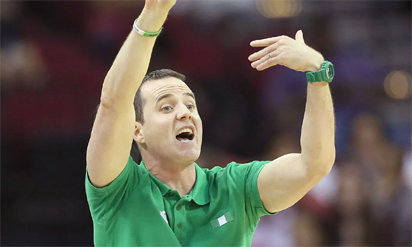 Voigt, who incidentally handled the Nigerian team to dethrone Angola two years ago, is reported to have signed a four year contract with the Angolan Basketball Federation (FAB) and was unveiled in Luanda on Saturday with a mandate to help the southern African country regain her top position in the continent.
Like he did while handling the Nigerian team, the 41-year old  American took along with him two of his Assistants who contributed to the historic Afrobasket victory, Mathias Eckhoff and John Bryant. Also unveiled with the trio are another Assistant Sergio Cristvao as well as a physical trainer, Nataniel Lucas and scout, Emmanuel Mavomo.
Chairperson of the Angolan Federation, Helder Cruz "Maneda" who spoke glowingly of Voigt at the unveiling ceremony said the new coaching crew's immediate task  would be to prepare the Angola team for the 2019 World Cup qualification which opens in the Angolan capital, Luanda tomorrow.
Voigt who started work on Monday after calling the players to camp will play his first game against Morocco in the first round of the tournament.
It would be recalled that Voigt waited patiently to be recalled by the NBBF to tinker the D'Tigers for the 2017 Afrobasket which held in both Senegal and Tunisia but the factional NBBF led by Musa Kida who were in-charge of the team looked beyond him and drafted Nigerian-born US-based Alex Nwora instead.
Following the confusion of who was really in-charge of the NBBF, all but one of the players who won the 2015 Afrobasket did not honour the invitation to play for the national team.
Only the co-captain of the 2015 team, Ike Diogu who was sidelined by injury two years ago turned up and eventually propelled the team to the final but they lost to host, Tunisia. He however, emerged the MVP of the championship.