Anambra election: The candidate of the United Progressive Party (UPP), Chief Osita Chidoka has said that the large turnout of voters in the Anambra Central Senatorial Zone, was a  stronghold of his party's chances in the poll.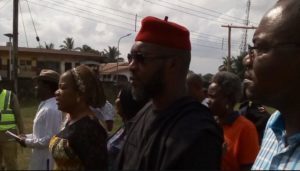 Anambra Central, which has 747, 695 registered voters, the highest in Anambra, also has Chidoka as sole contender.
Obosi the hometown of Chidoka alone accounts for over 51,000 active votes, which are expected to count for him in block for the Anambra election.
The same scenario is playing out in other polling units in Idemili north and south, both of which also have heavy voting population and supporting Chidoka.
The situation places Chidoka at an advantage, especially given that while he enjoys block vote from his area, other contending parties; APC, APGA and PDP; all with their candidates from Anambra north, are now scrambling  votes in the area.
Subscribe for latest Videos